While they may have officially closed their debut chapter, G22 is only beginning to attest to their effective range. To do so, AJ, Jaz, Alfea, and Bianca plan not to miss on continuous aims of their promised caliber.
Now reloading their ammunitions, these female alphas came ready to show their other side! Just recently, the official Cornerstone Entertainment girl group has pursued the release of its second single, Babalik.
Babalik: G22's first comeback
G22 penetrated the music scene with their hit debut track BANG on February 25. The absolute banger secured a number of fans called Bullets to dedicate support and admiration. To add, BANG successfully brought the quartet true to its branding as the newest caliber of P-Pop.
Hence, as they pledged on the first single, it's about time to raise the stake higher! After much preparation, G22 finally made their first comeback through the soul-pop song titled Babalik. Meanwhile, welcoming this new era is a music video released on May 27.
There, members interpreted the song with emotional expressions and minimal choreography. Overall, the outstanding piece emits a feeling of longingness while appealing deeply to our sentimentality.
In turn, the MV well justifies Babalik as a stark contrast to G22's BANG, both in genre and meaning, according to a press release by Cornerstone Entertainment. The gloomy, slow, and hypnotic vibe of Babalik pairs up with its intent to expose the intimacy and vulnerability of girls' romance.
Babalik is now out on all major music streaming platforms! You know the drill, Bullets― READY, AIM, STREAM!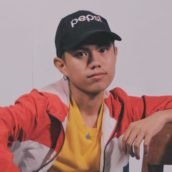 Renzneil Robles
Renzo is an introvert who prefers to do things at his own pace. Unlike most writers, he reads lazily. Watching Korean dramas at night is his constant source of comfort. Although oftentimes commended for being outspoken, he speaks better through writing than with his words.