Chito Roño will direct the upcoming Mars Ravelo's Darna: The TV Series as announced by ABS-CBN on Monday, October 4.
The series will be a television adaptation of the popular superheroine from Ravelo's roster of masterpieces.
A major announcement
The Kapamilya network made the announcement through a press release on Instagram.
ABS-CBN wrote,
"Highly-acclaimed box office director Chito S. Roño is officially taking the helm in the much-awaited television adaptation of the Philippines' iconic superheroine in Darna: The TV Series,"
The superhero action series marks Roño's return to television work after seven years.
His last TV project was back in October 2013 to January 2014, directing Maria Mercedes starring Jessy Mendiola.
Moreover, ABS-CBN announced how Mars Ravelo's Darna: The TV Series will begin taping by early November 2021.
Multiple delays
Past productions of Darna have been delayed multiple times.
Erik Matti originally helmed the project, which was supposedly a film. He reportedly left due to "creative differences."
Then, Jerrold Tarog received the directorial role, but backed out due to "scheduling conflicts."
Angel Locsin, popularly known for playing Darna in a GMA series in 2005, was tapped for the film in 2014.
However, the actress-philanthropist backed out due to health issues concerning a back injury.
Liza Soberano replaced Angel but eventually left the role because of a finger injury.
Eventually, Jane de Leon bagged the lead role in the now-television show.
She will star alongside Iza Calzado, who will give life to the role of Narda's mother, the first Darna.
On the other hand, Roño rose to fame for directing acclaimed box-office films like Dekada '70 and Bata, Bata Paano Ka Ginawa?
In addition, his last directorial project was the 2018 indie drama film Signal Rock starring Christian Bables.
We cannot wait to see how Darna: The TV Series will turn out under direk Chito!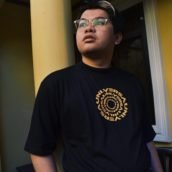 Kobe Adam Joshua Laurena
Kobe Adam Joshua Laurena is a writer who loves to tell stories from the perspectives of different people and everyday life. Apart from the pen, he loves to pick up the lipstick to transform into his frustrated drag persona: Anita Good Lovin'. He aspires to combine his love for writing and drag by creating a novel, short story, or screenplay about local drag queens in the future. He also has an obsession with sitcoms, women's pro-wrestling, and Funko Pops.