Alexandra Faith Garcia recently triumphed in the Miss Aura International 2021 pageant held in Turkey last October 3.
The beauty queen made history as the first Filipina to both join and win the title since the international pageant's debut in 2006.
On Instagram this Monday, October 4, Faith posted a photo of her crown.
She wrote,
"WE DID IT PHILIPPINES! Your Miss Aura International 2021! 🇵🇭"
In another Instagram post, Faith reflected more on her journey towards Miss Aura International 2021.
"The feeling is still so surreal. This moment was just a dream for the longest time and now it is a reality. This was truly God's plan,"
Moreover, she pointed out how she had tons of "firsts" during her international pageant journey.
These include the likes of being appointed as the first Filipina to compete in Miss Aura International, as well as getting her first visa to travel to Turkey.
Furthermore, Faith added,
"I had my 'first' ever long flight and my 'first' ever International travel all by myself. Not to mention the [luggage] and boxes (containing my NatCos) that I need to carry (I didn't know how I was able to summon all the strength to carry those [baggage] which are actually heavier than me),"
Also, she added how she was the first candidate to arrive at the venue, as well as being candidate #1.
Further, Faith said,
"Today, in my 'first' ever International Pageant I was crowned as the 'first' ever Filipina in Ms. Aura International,"
Faith concluded her reflections by expressing gratitude for the people who gave their utmost support.
"I'm still in awe [of] all of the things that had happened. Thank you so much everyone for the love & support that you have given me. It would not be possible without all of you. Para sayo ito, Mahal kong Pilipinas."
Faith, who hails from Olongapo, joined Mutya ng Pilipinas in 2014. She also competed in Bb. Pilipinas 2014 and Bb. Pilipinas 2020/2021.
Congratulations on a history-making victory, Faith! You make us Filipinos proud!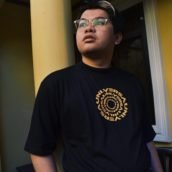 Kobe Adam Joshua Laurena
Kobe Adam Joshua Laurena is a writer who loves to tell stories from the perspectives of different people and everyday life. Apart from the pen, he loves to pick up the lipstick to transform into his frustrated drag persona: Anita Good Lovin'. He aspires to combine his love for writing and drag by creating a novel, short story, or screenplay about local drag queens in the future. He also has an obsession with sitcoms, women's pro-wrestling, and Funko Pops.