Nadine Lustre holds the title of 'Horror Queen' — feels grateful for doing more 'out-of-the-box' projects
Photo | IMDb
The pop culture icon Nadine Lustre couldn't believe that aside from her Best Actress award, she also now reigns supreme as the new titleholder of Horror Queen in the long history of the Metro Manila Film Festival due to the massive success of her film Deleter.
One of the highlights that Nadine appreciated in her groundbreaking film was that the audience really supported it. To date, it became the 2022 MMFF top grosser, edging out the comedy entry Partners in Crime with perennial film fest box-office winner Vice Ganda.
She thanks her mother studio Viva Films despite the recent debacle between the both of them that prompted the actress to try and leave the studio in the past.
It can be recalled that Nadine and Viva have agreed to continue their professional relationship on an exclusive basis until 31 December 2029. It was noted that Nadine should retain her rights to decide on matters in connection with her branding and image. The actress and the agency remain committed and focused on providing quality entertainment.
Meanwhile, in the recent press conference about her film, she mentions how she is truly grateful that she is working with Viva once again and that she gets to do other projects that are drastically different from the things she has done before.
"…this time around, you know, they're open to making more out-of-the-box projects. Hindi na lang puro romcom ulet yung ginagawa ko. I'm excited to work on more films with them, definitely."
A sequel to Deleter also has yet to be decided upon. Director Mikhail Red stated that they will still decide where they can take the success of the horror flick. As of the moment, they cannot announce anything officially yet. Nevertheless, he maintains that people should expect more diverse, genre films for future editions of the festival or theatrical releases.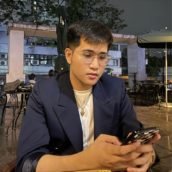 Raphael Garcia
Raphael is a person born between the generations of Millenial and Gen Z. He was produced by Cavite State University (Main Campus) with a bachelor's degree in Political Science. The lad has a fresh take on things, but can still stay true to his roots. He writes anything in Pop Culture as long as it suits his taste (if it doesn't, it's for work). He loves to wander around the cosmos and comes back with a story to publish.