Elegant, tasteful, and seamless – these are the first words that came into our minds when we see the works of Mark Neto Diaz. People think that fashion is just all about beauty and glamor. But it takes some serious talent and hard work to bring the model's raw emotion out of the picture.
Let's get to know more about this artistic process from one of the experts in the industry,
Mark Neto Diaz!
Motivating others through his craft
Mark Neto Diaz has been working as a creative director and image stylist for years. He also imparts his knowledge by teaching photography at the Fashion Institute of the Philippines. Being a photographer has never been his dream, but he grew fond of it. "Through pursuing this, I get to grow and learn every time. That's what made me pursue fashion photography."
During this ongoing pandemic, this creative director is also encountering challenges of his own as he moved to full-time freelancing. There are moments that he feels uncertainties in life but he keeps on pushing through. Why? Mark told us that he feels satisfied in his chosen profession because he can communicate ideas to his fellow artists. He gets excited when he sees his ideas put into action then everything is a huge success.
However, Mark admits that art is one of the most challenging to do. He explained that not all can understand and rely on it. He just gave a piece of good advice that there should be no room for doubts. "I believe that if you can't motivate others through your art; at least motivate them to always trust themselves doing it."
People often do not notice the process of coming up with creative ideas. But for Mark, this is quite crucial since he does a lot of research and test drives to combine the ideas. He added, "I'm the type of artist that has so much confidence in my vision. So I intend to visualize it in my mind and try to make it work on the actual shoot. A helping hand would be another thing that we can't deny. We need a helping hand to create something worth a long-lasting impression."
The importance of humility and kindness in this creative industry
Aside from his dedication, Mark gives importance to humility in order to stay in the fashion industry. For him, creatives should give their best effort regardless of the person they're working with. Also, one should be sensible enough to know their viewers or target audience. Even though he already achieved fame and success at his young age, Mark continues to aspire for more. But he focuses more on life experiences that will teach him lessons in his profession and personal life. While doing that, he just enjoys the present and trusts the process.
With all of his learnings about arts and fashion photography, Mark deeply believes that the industry should appreciate the efforts and ideas of the newbies. He said that a little consideration all the time will go a long way. "I believe that when a person feels motivated, they will set their mind to do more and to do better. That's one way to train new and upcoming artists where comparison and jealousy will never be a reason for discouragement."
Lastly, Mark shared the significance of expressing oneself through arts, fashion, or any other form of creativity. "We, artists, are the reason why this world has colors and shapes. We define it. Art is something that makes a creative person alive. It's the way we express ourselves. It's like clothes in fashion, they are made to wear and express ourselves. Somehow, art is the only thing that can save an artist from this lonely world."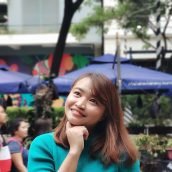 Queenie Lastra
Queenie Lasta got her bachelor's degree in Communications Research from UP Diliman. In her free time, she likes to read thriller novels, psychology books, and mangas. She believes in the importance of grit, hard work, and passion to become a great writer in the future.