FIRST LOOK: Drag Race Season 15, Episode 1 — Sneak Peek
Ever since the release of the sickening Meet the Queens video for the 15th season of the award-winning RuPaul's Drag Race, we super fans, have been so exhilarated. With the promising set of 16 fabulous competitors, it looks like we're in for a showstopping treat.
Just recently, to seemingly quench our thirst, the show has released the first five minutes of the first episode. And ghurrrrl, the drink didn't even reach my throat because I was craving for more. Anyhow, we have to work with what we got so we're gonna take a look at that and give our initial thoughts as we wait for the full episode on January 6.
Initial Thoughts on the First Five Minutes of RuPaul's Drag Race Season 15, Episode 1
Entrance Looks of the First Four Queens
I know the show has taught us to develop a vendetta against leotards, but Irene Dubois isn't wearing your typical bodysuit. As she stated, she is an alien queen and she definitely translated that into her look. With the tasteful cuts, the lovely color palette that she chose, the stylized wig, the long bulging things on her torso, the whimsical pair of shoes, and of course, her stunning makeup, she is a queen to look out for.
Luxx Noir London is giving you fashion in this pristine white jumpsuit. The open black pattern stretching from her right shoulder down to her left leg, showcasing a nude illusion is definitely a chef's kiss. Also, the long black 40-inch wig (well… Irene says otherwise) is a perfect crowning glory.
The ultimate black fantasy flaunted by our Filipina goddess Aura Mayari is to die for. The exquisite black dress paired with the Latrice Royale boots and choker with "Aura" written on it—overall a very cohesive look. She ate.
Unfortunately, one of the queens I am highly anticipating didn't give it for me. Ever since the Meet the Queens, I have looked forward to seeing Marcia Marcia Marcia, yet this look is kind of underwhelming, paling in comparison to her promo look which was golden. Maybe it was a reference to the vibe of the 1969 series, The Brady Bunch which she derived her name from but it really lacks that je ne sais quoi.
One thing I can say though is that I love her entrance, having her hair in front of her face, later revealing that she broke her nose—another reference to the show, specifically Marcia Brady.
The Shade of It All
One of the things fans have noticed is the extreme shade displayed in only a matter of five minutes. Within that time frame, many shady remarks have already been thrown at each other, specifically Irene Dubois.
Fans on Twitter are already dubbing the contestant the Queen of Shade and we're all here for it. Although that's not to say that she's the villain (or she might be). Her vibe comes off as shady but not to the point that it can be interpreted as rude or mean-spirited. Just a classic drag queen.
Twitter user @dragraceher posted a clip of Luxx being dragged by Irene for apparently not having that "40-inch hair" that she insists she has.
Irene gagged Luxx a bit… for sure 😭 #DragRace pic.twitter.com/rHLITlEQl9

— 𝔞𝔭𝔦𝔣𝔣𝔞𝔫𝔶 🪩 (@dragraceher) January 4, 2023
This tweet has been quoted by Seattle drag queen Jane Don't, who apparently knows Irene Dubois, and states that she feels satisfied to watch "tv drag queens getting a taste of my lived experience with Irene."
Obsessed with the tv drag queens getting a taste of my lived experience with Irene https://t.co/QFjDdQQdfk

— Jane Don't (@janed0nt) January 4, 2023
Also, that line of Irene, "It is. It's really nice. It reminds me of your face… bricks," gagged me, which is her conversation with Luxx about the Werk Room.
We cannot wait for more moments like this. It seems like this season will be interesting.
The Trade of the Season
Unsurprisingly, as gays are thirsty for some ick, these queens out of drag will never not be a topic. Many on Twitter and on YouTube have already gushed over the "trade of the season" Aura Mayari with her impeccable charm and, well… muscles.
Twitter user @danielorbelin posted these screenshots of Aura flexing her biceps which the gays weren't ready for.
OOOOHHHH @AuraMayari 🥵🥵🥵 pic.twitter.com/aQ0dfnxk6N

— gay de regata (@danielorbelin) January 5, 2023
And, well, a fast edit of that. Yep, fans have already decided that they are preying on her.
And the winner of Queen of Confessionals Look is…#DragRace fans (including myself) are gearing up for the season 15 premiere and it looks like we already know who's the trade of the season aka Aura Mayari. Which queen are you betting on?

📸 RuPaul's Drag Race pic.twitter.com/WU5FwXEvUK

— republicasia (@republicasiadot) January 5, 2023
So far, with only a five-minute sneak peek of episode 1, it seems like these first few queens will entertain the house down boots and we cannot wait to meet their sisters. Wait, there's more?! Well, yeah, 12 more, so just imagine how chaotic that would be.
What are your thoughts on what we've got so far? Sound off in the comments below.
Watch the first five minutes of the first episode here: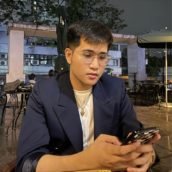 Raphael Garcia
Raphael is a person born between the generations of Millenial and Gen Z. He was produced by Cavite State University (Main Campus) with a bachelor's degree in Political Science. The lad has a fresh take on things, but can still stay true to his roots. He writes anything in Pop Culture as long as it suits his taste (if it doesn't, it's for work). He loves to wander around the cosmos and comes back with a story to publish.