RuPaul's Drag Race Season 14 | My 'Top 4' Queens So Far
Racers, start your engines, and may the best drag queen, win!
It is no secret that, as a writer, I like publicizing my thoughts about RuPaul's Drag Race. Heck, my first article ever to be published is actually ranking all of the seasons—from Season 1 to Season 12. I can't believe we're on Season 14 already, so I may need to update that list.
First impressions
The 14th season just started, technically. We're just three episodes in and so much has already happened.
The Meet The Queens actually introduced us to a variety of very interesting queens. Even the promo excited the hell out of me with that cute concept of candies and arcade. I had early favorites due to these, especially with their first runway, hosted by the Ebony Enchantress herself, my girl Symone.
Question is, did my favorites in the early videos hold up after three episodes? Well, we're going to find out.
The first three episodes
So, the gag for this season, really, is how they made the queens participate in a talent show in a regular season. If you are a super fan, you are probably aware that this is actually an All Stars tradition. However, they decided to add it in both the premiers of Season 14—episodes 1 and 2.
In episode 3, the latest one, the queens participated in A Pair of Balls, a ball episode. Ever since Season 10, we've always had balls early on in the competition, with more contestants having the chance to showcase their fashion sensibility.
A fun fact, however, is that this season holds the most looks ever to grace the runway, with 42 outfits worn. That's really a lot to digest, in my opinion. That's why I prefer my balls to be at the latter part of the show.
With all of the three episodes discussed as my basis for my Top 4 favorite queens, we can now proceed to the actual list.
Disclaimer
This is just my opinion. It shouldn't, in any way, be considered a fact that these 4 queens that I'll be discussing are the best of the best and they are the most talented among the cast. These are just my personal picks based on my personal taste. If you don't agree, GET OVER IT, or maybe create your own.
It's sad how I need to give a disclaimer. The Drag Race fans have been very vicious these days. They can't even take an opinion without considering them as facts that everyone should adhere to. I repeat this is just my personal taste.
Jorgeus
I feel like many people like Jorgeous—with her petite frame yet very, pun intended, gorgeous mug. Her cute personality and manner of speaking shines through like a mirror outfit out on a sunny day.
She's definitely one of my favorites since the release of the promo looks, the trailer, and the Meet the Queens. The Latina caught my attention when she munched on that edible rule book in the trailer for the season.
My admiration further developed when she danced the house down boots in her talent show. She didn't miss a single beat in that performance and when I say I lived, I mean, I LIVED.
Her runways aren't that bad either. She's no Violet Chachki, Aquaria, or Gottmik but she can definitely carry a look. With that said, my favorite runway of hers so far would probably be the white one she wore in the same challenge.
Angeria Paris VanMicheals
This queen can do a lot. Not only does Angeria have a lovable personality and a sassy attitude, but she can also back it up with her impeccable taste and undeniable talent.
First of all, her runways are just beautiful. Her entrance look is actually one of the best among the whole cast.
I think she really showed her exemplary fashion sense in the ball challenge though.
All her three looks are just right—her silhouette is great, she proportionizes, and she has a clear vision of what she wants. The gown that she made for the ball is one of my favorites too (I think Daya Betty's bridal dress is the best).
What I love the most about her though, aside from her fashion sense, is that personality. Like, god, how can you be so polished and also so funny at the same time? Can we give it up for Miss Angeria?
Anyway, I'll say this in the faintest of voice because people hate to hear comparisons with drag queens. However, she strongly reminds me of the perfect Miss Jaida Essence Hall. That queen is definitely one of my all-time favorites.
It may be a plus point to Miss Angeria, but of course, with that said, she just reminds me of her. I believe Angeria is amazing in her own way. She just reminds me of our Season 12 winner. The two of them exude that elegance and grace that I love in my drag queens.
Bosco
Bosco's aura just screams class and talent. I'm not sure why but aside from her looking so polished and fashionable, she also seems very kind and sweet. However, not in a way that she can be underestimated.
She has been my favorite since the Meet the Queens and the trailer. Bosco just has that "it" factor and, definitely, I wasn't disappointed finally seeing her in the show.
Her entrance alone is enough to say that she has potential. That entrance look was so good. As Monet and Trinity pointed out in The Pit Stop, it's hard to pull off polka dots (along with Angeria, of course), which she definitely did slay. Imagine pairing that with her signature horns and brows. What a cute look.
In the talent show, honestly speaking, she didn't stand out that much. That is to say, she didn't do too bad either. Her placement of safe is highly-justified. I would like to commend her for being so classy in that burlesque number though. I enjoyed it but not enough for me to say it deserves to place high.
Lastly, for the fashion show, I think she did well but was very much overshadowed by the better performances of other queens—Willow, Angeria, Daya Betty. I can't say that she served in her looks but my gravitation towards her is just so strong. However, I really hope she serves us with better runway outfits in the next episodes.
What I hold onto when it comes to Bosco is that she knows who she is. My opinion of her in these first three episodes is somehow very neutral and it seems like I didn't enjoy her performances. Nevertheless, I still think she has amazing potential.
She knows her body well based on her silhouettes on the runway, she always incorporates herself, the horns as the Demon Queen of Seattle, and her personality and vibe are very likable as well.
See Also
Willow Pill
Oh, Willow Pill, how do I start with her? Well, I know. She's weird and in the best way possible. And not the weird that just stands out because it is unusual. It stands out because it is in a certain taste level. Her style of drag is just very universal. Willow embodies the drag queen who just everyone loves to root for.
She doesn't only have a fun personality, but she's also a silent killer. I don't wanna call her an underdog but she seems to resemble the term. Ever since her entrance in the Werk Room, she has been underestimated by the other girls for her petite frame and being softspoken. That's until she received some love from the judges.
In the talent show, she flaunted her brilliant mind by coming up with a very whimsical number. The girls have underestimated her from the get-go that they were amused by Willow's number.
They didn't really get what she's doing as much as we do, but I'm sure as hell that all of us had a great laugh because of its absurdity.
I love how RuPaul described it as that part of drag where she came from. She made fun of the things that we usually take so seriously. I think that's pretty solid.
Of course, talking about the ball challenge, we wouldn't forget the part that she won. She absolutely destroyed that challenge. Apart from me thinking that Daya Betty deserved better, I think Willow did a great job as well.
All of her three looks individually are perfectly executed. The feedback I would give it though is that they should've been more cohesive and more connected to one another. Despite that though, I think each one of them is a strong look in their own right.
The executive realness made with colorful fabric and an unusual pattern for such look is well put together. Her second look though was highly-criticized for being a Versace knock-off. Nevertheless, I think it looked pretty elegant, paired with that gorgeous hair and mug.
Lastly, the star of the night, the pantsuit that she made—wow. That look is good, it makes my eyes orgasm. It's such a nice piece. That fabric looks very good yet also seems very hard to work with. Somehow, she made it magical. I also love the eye-piece she had for the illusion of the veil.
To close it all off, I think she modeled the heck out of every single one of her outfit. What a queen.
So there you have it, my top 4 favorites so far. I'm pretty sure as the competition runs its course, I would be discovering more about them including those I didn't mention.
I have other favorites that I wasn't able to include like Kerri Colby, Daya Betty, Kornbread "The Snack" Jete, and Jasmine Kennedie. But of course, I'll be keeping my eye on them as we progress.
Let me see you again in the finale and anticipate if I still stick with my favorites though. There's a huge chance that it will still vary in the next episodes. Who knows?
For now, you, who are your favorites?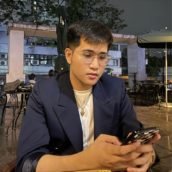 Raphael Garcia
Raphael is a person born between the generations of Millenial and Gen Z. He was produced by Cavite State University (Main Campus) with a bachelor's degree in Political Science. The lad has a fresh take on things, but can still stay true to his roots. He writes anything in Pop Culture as long as it suits his taste (if it doesn't, it's for work). He loves to wander around the cosmos and comes back with a story to publish.