Dindo Fernandez: Discovering the Soulful Sound of a Fast-rising Balladeer
In the music industry, styles, and genres are constantly evolving. But with the proper mindset, attitude, and ability, there's always room for fresh talent to endure the complexities of the job and be able to captivate the audience through soul-stirring melodies and vocal acts. Dindo Fernandez, a fast-rising balladeer, and songwriter, is striking a chord with his heartfelt compositions and exciting performances. Let's delve deeper into his life's artistry as a musician and explore his journey as a flourishing performer and the impact he is trying to make on the music scene.
"As a musician, I learned a lot from the church choir," Dindo Fernandez said. "I can still remember that there was one Christmas Eve mass, and I was the Youth Council President at that time, and I wanted to do my best. For us Catholics, we consider it the highlight of the year, and because I have to make things impressively perfect, I found myself arranging "Oh Holy Night" and "Gloria in Excelsis Deo" in pop-orchestra style. Little did I know that I was already into a vocal and music arrangement."
"Akala Ko" and "Makinig Ka"
Unknown to many, Dindo Fernandez released two of his original songs a year ago ("Akala Ko" and "Makinig Ka") on Spotify, iTunes, Apple Music, and other music platforms. And, as of now, it has gained good reviews and a good number of followings. And because of this, it inspired him more to pursue singing as a laudable outlet for his music. With no formal training in music, his impressive array of church choir exposure made him a better version of himself as a musician. And when it comes to his compositions, he said, "It usually pops up when I am feeling good and I am relaxed. They are collected from my memories and experiences with the intention to inspire, motivate, teach, and of course, to entertain."
Singer at a young age

"I believe that my foundation in choir singing has helped me a lot to express any song soulfully and wholeheartedly. I was able to blend my voice with the rest of the members and be able to discover my vocal range. And I guess my edge over other singers is that, when I sing, I tell my story."
Growing up as a child, Dindo realized at eight that he can carry a tune with utmost ease. His early favorites were "Nothing's Gonna Change My Love for You" and "The Greatest Love of All." And because of that realization, it led him to be given solo parts in the choir.
"I think I was so blessed because, at a young age, I was already singing the compositions of Fr. Manoling Francisco S.J., like "Sayo Lamang," "Far Greater Love," and "Panalangin sa Pagiging Bukas Palad." He's the same priest who composed the classic "Hindi Kita Malilimutan". It was popularly sung and recorded by the music icon Mr. Basil Valdez. His songs were really inspirational but very melodious similar to pop ballad songs. And those songs prepared my vocals to do sweet, sad, and powerful ballad love songs which I am doing today," he shared.
Singer and Performer
Dindo's steadfast career as a singer and performer has its own upheavals. Although he met several obstacles along the way, these challenges molded him to be a better artist. "It was hard to find a team that would guide you and take good care of you in your journey," recalled the singer. "I had some people in mind I wish I had talked to and asked for their advice and support. But, I didn't have the access to grant their attention. So, I explored and tried my luck by asking people around particularly about things I should do related to singing. My perseverance paid off until someone discovered me in one of my concerts and I was nominated for the Aliw Awards 2022 as "Best Male Performance in a Concert" and "Best New Male Artist of the Year."
As he continues to create himself as a prominent balladeer, Dindo's future in music holds much promise. His dedication to his craft, supported by natural talent, paves the way for a viable successful career. His sights sets on making more heartfelt ballads and maybe collaborating with like-minded artists. He also aims to touch the lives of music lovers and enthusiasts with his songs. Aside from Gary Valenciano whom he admires the most as a singer, he also considers Martin Nievera, Michael Pangilinan, Boyz 2 Men and Mariah Carey as artists who have influenced his music.
Everyone has his own spot
In a competitive industry like music, Dindo Fernandez believes that everyone has his own spot in the business. "I think we have all the opportunities to prove ourselves in this industry we all belong," he stressed. "My songs and my way of delivery are like a breath of fresh air. If you want to hear a sweet and heavenly male voice, as one of my supporters once told me, who can do a powerful build-up at the peak of the song, transporting you to another dimension in the process, you may probably want to see me perform and hear my music."
And how do you envision yourself as an artist in the coming years? "I think I will sing more classic music, local and global hit songs, but in my style. Of course, I will be making more original songs that would become potential international hits," he ended.
Kudos! More power!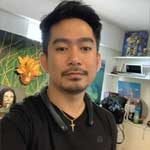 Josh Austria
Aside from being a businessman, Josh Austria has been working in PR and media industry for more more than a decade. From his years of experience as the Marketing and Advertising Head of Village Pipol Magazine, he has built strong relationships with creative people, brands, and organizations.