The city's rushed life, with so much work, makes us want a quick escape. And, if you're looking for a perfect place to stay without traveling far? Here's Cristina Villas, a resort and hotel in Antipolo serving you a cozy and picturesque view. 
Cristina Villas, a must-visit hotel and resort in Antipolo
A seventh heaven
Cristina Villas Resort and Hotel nestles atop the magnificent peaks of Antipolo City. Its Bohemian and Mid-Century interior designs will please your eyes throughout your stay here. More than that, they offer an ultimate retreat for relaxation and recreation to ease your stress away.
The way to the paradise
Cristina Villas is 48 minutes (18.4 km) away from Cubao when you go there via private vehicle. For commuters, you can ride a bus from Araneta Center Bus Terminal to Robinson Antipolo; upon arriving there you have to take a tricycle directly to the resort. The travel estimated time would be 56 minutes.
Swim that stress away
Cristina Villas has five big pools, so if you're worrying that the pool is full of people, it is less likely to happen. These pools come in different designs: they have an infinity pool surrounded by trees and waterfalls.
They also have a water park pool, sirena pool, upper big pool, and lower big pool with long slides that you can enjoy as you soak yourself in the water. Night swimming is available on Saturday only.
A warm aesthetic stay
The hotel of Cristina Villas has a lot of different kinds of rooms. They can accommodate guests from standard rooms, couple rooms, family rooms, and suite rooms. Their rooms come with a touch of minimalist yet the rustic interior design that would not overwhelm you.
Each room has beds, a bathroom, television, air-conditioning, a mirror, a table, chair, and cabinets. A telephone is available for you to use if you have concerns to raise at the front desk. You will also have access to the internet within the hotel. The room rates range from PHP 2,800  to PHP 18,000.
Likewise, you can go around the lobby to take pictures of their classy mid-century furnishings. The hotel has a breezy and seamless flow, allowing you to enjoy an indoor and outdoor stay. It is surrounded by sliding doors and picture windows, letting you have a connection with nature.
Blissful amenities
Aside from swimming, you can also enjoy other amenities in the resort. If you want a more physically friendly activity, they have a spa and a gym.
For hangout, you can sing your heartbreak anthem with your friends in their First class KTV room. Additionally, if you want something venturesome, Adventure Zone with a rope course will challenge you!
To celebrate life
The resort also has four spacious conference rooms you can book for an event. May it be weddings, reunions, or birthdays you can celebrate it along with the beautiful scenery of Antipolo peaks.
Making your stomach delighted
Café Cristina Bar and Resto will satisfy your cravings with their wide range of meal choices.
From their main course, sizzlers, Pica-Pica, steaks, pasta, burgers, desserts, and drinks, you'll have your tummy will be happy.
Furthermore, breakfast is also complimentary for every overnight stay.
Visit Cristina Villas Mountain Resort Facebook page for more details. So what are you waiting for? Experience an amazing getaway with Cristina Villa!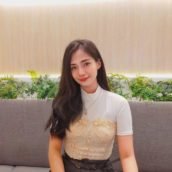 Veronica Louis Gannaban
Nica is a resin artist, watercolor painter, and writer. She loves putting art into life because it feels liberating. She believes that the most powerful form of art is through words, for it can set us free. Her life is sweeter than fiction because of Taylor Swift's music, fur babies, and chick flick movies.