Jewel Mische is pregnant with third child
Jewel Mische made a blissful announcement on her Instagram last Sunday, September 26.
The former actress announced her 35-week pregnancy. This is her third child with her husband Alister Kurzer.
In her post, she wears a gray floral dress while Kurzer kisses her baby bump.
Jewel wrote as the caption,
"Here's to chivalry, romance, and being spoiled for the remaining weeks to come!"
In another post, she asked, in jest, if she gets something after having two babies amidst the COVID-19 pandemic.
"Do you get a plaque or something if you have two babies in a pandemic?? "
Jewel and Alister tied the knot last 2015.
They welcomed their first child Aislah Rose back in July 2018. On the other hand, their second daughter Emerald was born last April 2020.
In 2007, Jewel bagged the title of the Ultimate Survivor alongside Aljur Abrenica in the talent reality competition StarStruck.
Then, she starred in various television shows like Kamandag, Pilyang Kerubin, 100 Days To Heaven, and Maria la del Barrio.
Congratulations on your third child, Jewel and Alister! We cannot wait to meet this kid!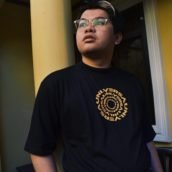 Kobe Adam Joshua Laurena
Kobe Adam Joshua Laurena is a writer who loves to tell stories from the perspectives of different people and everyday life. Apart from the pen, he loves to pick up the lipstick to transform into his frustrated drag persona: Anita Good Lovin'. He aspires to combine his love for writing and drag by creating a novel, short story, or screenplay about local drag queens in the future. He also has an obsession with sitcoms, women's pro-wrestling, and Funko Pops.