The Ateneo Martial Law Museum slammed actress-host Toni Gonzaga for her recent interview with former senator Bongbong Marcos.
The museum posted an open letter regarding the matter on their social media accounts last Wednesday, September 15.
Downplaying the atrocities
In the letter, they said Toni's vlog contributed to the whitewashing of the atrocities committed under the presidential term of Bongbong's late father, Ferdinand Marcos, Sr.
"Your show has contributed to the Marcos family's attempts to whitewash their human rights violations and its proven historical record. Marcos is a lying clout chaser, desperate to change public opinion about historical facts as he has neither history nor truth to his side,"
Moreover, the museum described how Toni described the defeated 2016 vice presidential candidate as an "approachable figure."
"Your show presented Bongbong Marcos as an amiable and approachable figure. This is also an outright attempt at whitewashing. Mr. Marcos is not and will never be 'ordinary' or 'one' with the people.'
Interviewing martial law victims
Apart from criticizing Toni's online show, they also suggested she interview martial law victims and their surviving families.
"May we invite you to instead talk to the victims and surviving families of the Martial Law regime? The Ateneo Martial Law Museum stands ready to facilitate your encounter with the victims of Martial Law and with the truth,"
Additionally, the museum said,
"These are the stories that celebrities and influencers should strive to popularize and disseminate as they are exemplary models of how we can strive to create a better country for everyone,"
See Also
Toni drew the ire of netizens for having Bongbong as a guest in her online show.
As of writing, she has yet to address the criticism around her vlog, which currently has over 1.7 million views.
Furthermore, the issue becomes more relevant today as the country is set to commemorate the 49th anniversary of martial law this September 21.
The military rule was a 14-year period of civil unrest marked with various human rights violations.
What do you think of this issue so far? Let us know!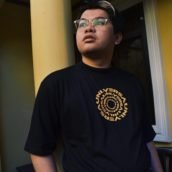 Kobe Adam Joshua Laurena
Kobe Adam Joshua Laurena is a writer who loves to tell stories from the perspectives of different people and everyday life. Apart from the pen, he loves to pick up the lipstick to transform into his frustrated drag persona: Anita Good Lovin'. He aspires to combine his love for writing and drag by creating a novel, short story, or screenplay about local drag queens in the future. He also has an obsession with sitcoms, women's pro-wrestling, and Funko Pops.