Where to find the best quality Matcha milkspread in Metro Manila
When we hear the word, "matcha", we always think of the tea that is a staple drink of the Japanese. People outside began to love its fresh flavor, even here in the Philippines where almost all have sweet tooth.  We already see a lot of foods that have a matcha flavor like pastries, cookies, bread buns and so much more. If you cannot get enough of it, then we have a nice surprise for you. Introducing the match milky spread and polvoron from Midori Dairy PH!
Building a name that stays over the years
The story of Midori Dairy PH bloomed three years ago from its owner's love in matcha. Henna Cabañez told us that it's her favorite flavor for dessert so she decided to bring the idea to Filipino consumers. By her observation., there are quite a few sellers of matcha milk spread. Since those online sellers are importing from Korea and Japan, the price ranges from PHP 400 and above.
Luckily, Henna is a Hotel and Restaurant Management degree holder so she was able to formulate her own blend of matcha milk spread. She tweaked the taste of her products according to the preferences of most Pinoys. Midori is a Japanese word that means green, the color of matcha, or green tea.
When starting her business, she imagined everything in her mind first. How people would react to its taste? What's the perfect color that will be attractive and catchy? How she's gonna advertise her business? Aside from that, she took a month to test the shelf life of her matcha spread to make sure it still has the same taste and quality.
Her three years of experience in the business taught her that success depends on one thing. People must recognize you as the seller and your brand, of course. She added, "It is more of having the satisfaction within yourself as the founder and creator of your own business brand, and how people can recognize it in a very simple way just like having positive feedback about your product for instance."
Although Henna decided to pause the business from 2018 up to early 2020, many people are still messaging them to inquire. There were even proposals for partnerships, rebranding offers, and product features. After that, she realizes that many are still fond of her products. She also shares wise business tips for those who want to start a venture on their own:
"Have faith and determination. We know money doesn't come first in life, but it's essential to fulfill our basic and daily needs. Always think that being a spender won't save you, being a saver can possibly save you, but making your money circulate through an investment such as this little business, can save you."
Balance of milky sweetness and goodness of green tea
As of the moment, Midori PH offers three products only but all of them are of high quality. Aside from the best-selling matcha milkspread, they have matcha polvoron and empanadas. The crowd favorites are pizza and chicken ala king empanada.
We can say that their matcha spread is a must-try because it has an addicting taste coming from the playful sweetness of milk and sugar that complements the fresh green tea flavor. It's like you're eating yema with pastillas but with a hint of matcha. Meanwhile, you'll definitely want more serving of their homey chicken ala king empanada with its buttery crust.
According to Henna, she plans to add other varieties of the milkspread and entertain some resellers. These flavors are definitely in harmony with the existing matcha spread.
If you are interested to try and order the goodies above, just message Midori Dairy PH on Instagram or Facebook. The online shop is open from 9AM to 8PM but you must give them 48 hours lead time at most to prepare the spread and polvoron. They just want to make sure they're going to ship you the freshest batch. For the mode of payments, they accept BPI, BDO and GCash.
So if you're looking for an affordable way to satisfy your matcha craving, your search is over. Midori Dairy PH guarantees a premium bottle of spread that you can pair or eat on its own. We won't judge!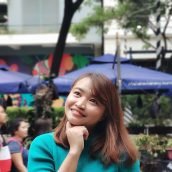 Queenie Lastra
Queenie Lasta got her bachelor's degree in Communications Research from UP Diliman. In her free time, she likes to read thriller novels, psychology books, and mangas. She believes in the importance of grit, hard work, and passion to become a great writer in the future.