It has been more than one week since P-Pop monster rookies VXON dropped their latest single, Fiyaah.
Fiyaah is an upbeat track that promotes embracing our passion and unleashing our inner light. Since its release, the song initially made a great impression by instantly penetrating local and international charts.
Additionally, its official music video has garnered over 350k views on YouTube. The growing fandom of VXON, on the other hand, continues with their praises for the brand-new release.
Briefing more about the hottest piece that is Fiyaah, here are some guaranteed expectations:
Its lyric is on fiyaah
To describe Fiyaah is to imply a perfect balance of essence and savagery. Its inspiring message hopes to rekindle the passion inside everyone. But more than this, it also showcases the ferocious side of VXON that we may have never witnessed before.
Unlike their earlier singles, Fiyaah has more rap verses that contain sharper and braver tones. However, it remains consistent with its intent to uplift and elevate our fighting spirit.
A fiercer version of VXON
Through their debut with The Beast, VXON gained a powerful entrance into the competitive native idol industry. They are growing, but there lie still many aspects the group needs to explore. Every dedicated VIXIES is so here for that!
So, thanks to Fiyaah, fans taste a bit of this VXON evolution. From their expressions to gestures, presence, and choreography― the members undeniably improved a lot.
See Also
High-quality MV
VXON always gave their fans music videos that exceeded expectations. Admirers, moreover, were wowed knowing how each bandmate became involved in the process. This time, too, they did not disappoint.
Fiyaah's MV took us to a mixed setting of witch-core and dark fantasy aesthetics. On top of that, the boys of VXON served with noteworthy fashion statements. Pairing those with their caliber talent equals a proud OPM masterpiece.
Did these reasons intrigue you? Stream Fiyaah by VXON on all major music platforms now!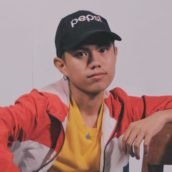 Renzneil Robles
Renzo is an introvert who prefers to do things at his own pace. Unlike most writers, he reads lazily. Watching Korean dramas at night is his constant source of comfort. Although oftentimes commended for being outspoken, he speaks better through writing than with his words.