TikTok creator Dr. Mirah Borja finding balance between family and career
Get to know Dr. Mirah Borja, an inspiring supermom. You can finally learn how she juggles her home life and hospital work. She does this all while dealing with the ongoing COVID-19 pandemic. When you're a wife and a mom, you can lose yourself in the busy day-to-day life. However, it doesn't mean that having a successful career will make it impossible for you when you have a family. The key? Find a balance between home life and work. You also have to accept the sacrifices that need to be made. And, of course, find fulfillment in all that you do.
All this is what Doctor Mom, Mirah Borja, has done and continues to do, as she juggles family and career.
Known online as @doctormomph, Mirah became a TikTok creator to share helpful information on obstetric and gynecologic conditions. Of course, this includes the journey from pregnancy to motherhood and the wonders of parenting. She shared:
"In this time of the pandemic, access to health care has become limited and this is why I have dedicated the majority of my videos to respond to medical inquiries that have been posted on my comments section. I myself went through a pregnancy during this pandemic, and it felt tougher than I had imagined. Like how I felt, I know that there are pregnant mothers out there who wanted to seek consult but fear putting themselves and their babies at risk."
Talking about danger signs to watch out for during pregnancy.
 "As an Obstetrician, I am very particular about this, and this is what we advise all our patients to watch out for before sending them home. Not only does it assure me that I have well-advised my patients, but it also makes my patients feel empowered that she is able to look after her and her baby's well-being as well."
Apart from being a doctor, Mirah also became a first-time mom. She said that while she devotes herself to her profession, her child will remain as her top priority. Although being able to balance family time and work feel hard enough, the COVID-19 pandemic made things even more difficult.
"Being a devoted mom, being a devoted wife, all the while being a devoted doctor takes practice. It took a whole lot of patience and skill to attune myself to this constantly changing environment that is full of uphill struggles, decisions, and joy.I try to balance work and family by creating a "To-do list" for the following day before I go sleep, waking up early every day, and being productive as much as I can during the day so that I can spend the night with my family."
One of the biggest hurdles faced by Mirah during the pandemic was having to leave her then two-week-old daughter to attend to her patients.
Despite sacrifices, Mirah believes that the best thing about being a working mom would be continuing to do whatever she loves. For her, being a physician had become one of the most fulfilling jobs.
"I think it was the hardest moment I had during this motherhood – the first time that I had to leave her side. Imagine not being able to breastfeed, not being able to go home to hold, hug, and kiss your baby because of fear of exposing her to the disease. I longed for her, and knowing that she too was longing for me was the hardest thing to endure at that time."
Mirah's advice to other moms, whether they work or stay at home would also include:
"As moms, we will always somehow tend to put everyone else's needs before our own – Mommy's instinct! But this may eventually lead to mommy burnout. So take a break once in a while." She adds, "Do not be ashamed to take a breather. Making time for yourself is a must."
Discover more inspiring mothers like Mirah on TikTok. Download the app on your

iOS

and

Android

devices today to get started.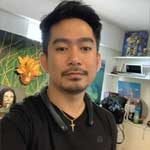 Josh Austria
Aside from being a businessman, Josh Austria has been working in PR and media industry for more more than a decade. From his years of experience as the Marketing and Advertising Head of Village Pipol Magazine, he has built strong relationships with creative people, brands, and organizations.