These flavorful Thai dishes will leave your heart and belly satisfied!
Thai food is a delicious cuisine that has become popular around the world due to its bold flavors. If you've never tried Thai food before, you are missing out a lot!
Why Thai food is so popular?
One of the best things I love about Thai cuisine is that it's relatively healthy. You can even adjust it to accommodate vegan and vegetarian diets. Almost every Thai dish includes fresh fruits and vegetables, plus the meat, seafood, and sauces are always fresh and flavorful as well.
However, we have only a few Thai restaurants in the Metro that serve decent and authentic dishes from that country. From my experience, some aren't even worth the price.
It seems that our wishes were heard and I stumbled upon Thai Joint PH on the Internet. This online business is a side hustle of a photographer, Ms. Belle Dinglasa. Thankfully, she was able to share with us how she began her journey as a Pinay entrepreneur.
From a photographer to a certified foodie
As a photographer, Belle has been in Thailand twice for food-related projects. Her experience led her in discovering different flavors from its local cuisine, developing her palate for it.
It was hard to find authentic Pad Thai here in Manila so she tried to recreate it and serve it during family gatherings. It became a huge hit so she decided to sell it then came up with her own brand, Thai Joint.
According to Belle, they source out their ingredient from local farmers and nearest markets. For example, she gets the herbs from a local farm in Silang, Cavite. They also practice zero waste, hence they use reusable containers and bags for everyday purchases.
Her experience and hardships of establishing her own business had taught Belle a valuable lesson:
This journey taught me that consistency is important. The support from friends and customers who keep going back and placing their orders is crucial for me to keep going. Although I am not sure if I can call myself successful since Thai Joint is just one of my side hustles, I am thankful to have a team and friends who have supported me from Day 1.
Well-balanced, bold flavors, and plenty of umami
The rich spices and satisfying flavors of the dishes and delicacies from Thai Joint PH are truly mindblowing. We were able to try their best-sellers namely: Thai Grilled Pork, Thai Pork Belly, Chicken Pad Thai, and Mango Sticky Rice.
All of the foods were still hot and fresh, even from the long delivery ride. I also appreciate that they properly packed the dishes to avoid spillage.
To start off, I took a bite of the Chicken Pad Thai and I can hardly stop. There's something about this noodle dish that boosts our appetite.
The flat noodles absorbed all of the sweet and savory sauce while having good amounts of chicken strips, bean sprouts, greens, and peanuts. The chili flakes give it just the right spicy kick, complemented by the fresh and tangy flavor coming from lime.
For the meat dishes, they have two kinds: Thai Grilled Pork and Thai Pork Belly. Believe me, there's a huge difference between these two. The Thai Grilled Pork is similar to our inihaw na liempo, but the herbs and flavor would be the tell-tale.
Meanwhile, the Thai Pork Belly is like a party in my mouth. It's juicy on the inside while crispy on the outside. The sauce that came with them is soy-based that is filled with herbs and chilies.
The side dish for this hearty meal is a serving of Som Tam or Green Papaya Salad. It tasted weird at first but I came to like it after a few bites. It's like eating atchara with fried or grilled foods. It somehow counters any oily or salty taste so it's a good appetizer as well.
My favorite part of this experience is really the dessert. Thai Joint's Mango Sticky Rice is the bomb! I'm not into kakanin or suman, so this comes as a surprise to me. The group tray is actually big, perhaps it can serve 5 to 6 people.
The glutinous rice is perfectly cooked and has the right amount of sweetness. The ripe mango chunks give this dessert a fruity tang while the creamy coconut milk makes it comforting.
As a finishing touch, you must sprinkle the toasted yellow mung beans on top of the coconut cream. The nutty flavor of these beans adds texture and nutty taste to the sticky rice. I didn't even notice that I finished a whole small plate of it.
To complete your Thai food journey, this online shop also serves drinks that you must try. We had a taste of their Thai Milk Tea, Thai Green Milk Tea, and Thai Iced Coffee. The Thai Iced Coffee is so good since it's sweet and creamy. If you like putting condensed milk on your cup of joe, then this is really for you.
On the other hand, both the Thai Milk Tea and Thai Green Tea are refreshing on a hot, humid day.
For those who are looking for a new flavor, then Thai Green Milk Tea is your best bet. The lemongrass aroma might be too strong but it tastes good. Thai Milk Tea is perfect for those who want to play it safe since it got caramel and creamy taste that the majority loves.
So there you have it! All in all, I must say that all of the dishes from Thai Joint PH deserve the spotlight. But my personal favorites so far are Thai Pork Belly, Mango Sticky Rice, and Pad Thai.
Each dish packs a punch and while not every dish is spicy, every dish is bold, and packs in tons of yummy umami flavor.
Belle said that she's planning to add Hat Yai fried chicken and Boat Noodle Soup soon. Below is their complete menu as of the moment:
How to order?
For orders and inquiries, you can message directly Thai Joint PH on its Facebook and Instagram accounts.
Note that they use any courier as of the moment for their deliveries. You can opt to book your own order or pick it up personally. The online shop accepts GCash and online transfer through BDO, BPI, and Unionbank as modes of payment.
I'm warning you, once you've tasted these delicacies from Thai Joint PH, you'll be coming back for more!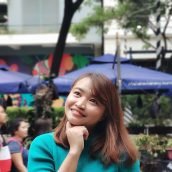 Queenie Lastra
Queenie Lasta got her bachelor's degree in Communications Research from UP Diliman. In her free time, she likes to read thriller novels, psychology books, and mangas. She believes in the importance of grit, hard work, and passion to become a great writer in the future.