Indulge yourself with the old-fashioned doughnuts from Hole-y Karbs!
Do you know that since the early 19th century, people had already had a love affair with doughnuts?
Whether you take yours glazed or filled will jelly and dusted with powdered sugar, we can all agree that doughnuts are quite tasty. Not only that, but these fabulous confections are also pretty versatile!
Turning a dream business into reality
This is why we can see why people from the South have been raving about these baked goods from Hole-y Karbs! Our team was able to interview its proud owner/baker Ms. Kim Domingo on how she started this doughnut business.
According to Kim, she really wanted to make her own doughnuts because making them really soft is quite a challenge.
She had the time to learn to make them when her boss asked her to file a leave due to her sensitive pregnancy. With so much time on her hands, she started materializing her dream of having a doughnut shop.
After a few months of practice, she finalized her recipes and let her friends and loved ones taste her products. The great thing is, her husband has a lot of friends on social media so they were able to promote her doughnuts online.
Eventually, it became the start of her full-time job as a baker and an entrepreneur.
Kim admits that she has several suppliers, she just makes sure that her ingredients are fresh and far from their expiration date. She said that she has a goal for her doughnut business.
"Yung pangarap na one day makikilala kami ng buong Pilipinas at pilahan din."
Delectable, luxurious, and satisfying
We were lucky enough to try some of the Hole-y Karbs' indulgent best-sellers namely: Assorted Doughnuts (6 pieces), Premium Choco Chip Walnut Cookies, Strawberries & Cream Doughnuts.
I must say that the packaging of the doughnut is really on point, it's classy and minimalist. The white box is durable enough to protect the food inside during delivery.
The Assorted Doughnuts offered variety in terms of flavor but the majority is leaning towards the chocolate base. Just by opening the box, you'll take a whiff of the sweet aroma.
Upon bite, I could taste their nice, yeasty flavor and they're so light and fluffy. Honestly, their goodness does not rely on the frosting or glaze since I can taste the freshness of the dough.
The frostings of these doughnuts are all creamy and the sweetness level is just right. My favorite so far is the ones with the sliced almonds on top. For me, they are so much better than the ones I tried from a popular donut chain.
The Premium Choco Chip Walnut Cookies are instantly my comfort food. Needless to say, they perfectly go with brewed coffee, tea, and milk of course. They're bite-sized so great for munching during road trips or movie marathons.
See Also
Each bite is generous with dark chocolate chips and walnuts. They taste even better after we refrigerate them for a few hours!
Saving the best for last is the Strawberries & Cream Doughnuts. I'm really a fan of anything strawberry-flavored but not the ones that taste so artificial. The good thing is, these strawberry and cream-filled doughnuts from this online shop taste natural and fresh!
The cream filling is so light, sweet, and addicting. It tastes like melted allows, so sinfully good. The sliced strawberries gave it a nice twist of fruity and tangy sweetness. These are my favorite among the three items and I can see why others got hooked.
Ms. Kim Domingo said that she's in the process of creating new recipes. She's planning to offer cakes, milkshakes, and sandwiches, and different kinds of artisanal bread.
For orders and inquiries, you can message Hole-y Karbs via Facebook and this mobile number: 0920 230 3891. They offer delivery even outside Cavite City via Lalamove. For the mode of payment, they accept GCash and bank transfers.
If you are planning to make bulk orders, you can do it days in advance. Here's the complete menu of their online shop as of the moment:
Once in a while, it's nice to treat yourself for your hard work with these luscious doughnuts. After all, they are worth every carb!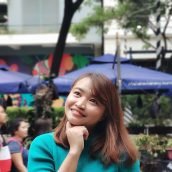 Queenie Lastra
Queenie Lasta got her bachelor's degree in Communications Research from UP Diliman. In her free time, she likes to read thriller novels, psychology books, and mangas. She believes in the importance of grit, hard work, and passion to become a great writer in the future.