This June, a more meaningful and worthwhile celebration awaits SB19 Stell on his upcoming birthday. Unbeknown to the multi-talented idol is a surprise he might have or not have expected. But now, it's finally the time to spill the beans!
Stellvester Ajero, or Stell, is a social media star, vlogger, and member of the prime P-Pop group sensation SB19. On June 16, he will mark another blessed addition to his existence. And with fans so thankful for that, a one-of-a-kind gift was prepared.
In lieu of celebrating Stell's birthday, Fastbooks Educational Supply Inc., a publishing and bookselling company, organized a book donation drive. The pioneering event themed "REAL STELL: TURNING PASSION INTO A MISSION" will happen on June 10 at the celebrant's elementary alma mater.
What should fans and Stell himself expect of this project?
READING CORNER: A birthday project for SB19 Stell
Specializing in all-level library reference services for almost two decades now, Fastbooks Educational Supply Inc. is a goal-driven company. In the past five years, it has consistently launched book donation drives in several cities and municipalities all over the country. Moreover, the same commitment was pursued even despite the pandemic happened.
This year, students from CAA Elementary School in Las Piñas are the chosen recipients of the book donation drive. The selected beneficiary school is a place close to Stell's heart, being an alumnus. Spending the time of his childhood, one can say it is where he first built his ambitions.
According to the prime movers, the planning of this event started as early as April 2022. To add, this sincere undertaking is a handiwork of a mother and daughter tandem who are both avid fans of SB19. Fuelling the initiative is the desire to give back the inspiration the group has exuded and to share the dream to give hope to the young ones.
For this project, although everything since laying the groundwork required close attention, it was worth it, after all, to give Stell one of the best presents he could possibly remember.
More and more surprises
In reaching out to Stell through his mother, Ms. Mylene Ajero, reception of the proposal for this book donation drive was initially positive. The plan could not have been more perfect, especially since the school's library lacked learning materials. Thus, this drive will serve its purpose at the best time, and Stell, more than knowing, also approved the initiative.
However, what is a surprise for him is the actual ceremony to be held on June 10. Contrary to what Stell has been informed, the event will not only consist of turning over donated books for the students and faculties. It will also include a humble party to celebrate his birthday in advance through this gathering, as prepared by Fastbooks Educational Supply Inc.
On the other hand, CAA Elementary School will take the opportunity to award Stell as an exemplary individual, recognizing the honor he brought to his alma mater. This welcomes him as now part of the school's hall of fame for most successful alumni.
The program, aside from some of Stell's closest family members, is strictly limited to the beneficiaries. Furthermore, according to Ms. Mylene, Stell will have a "special participation" on this important day. But anything more than that shall remain a surprise for now.
Curious to know what it is? This donation drive and fan project for Stell will be streamed live on Facebook through Ms. Mylene Ajero's account. Meanwhile, soon uploaded on YouTube is the full video of the entire event. 
For more details and other updates, follow Fastbooks Educational Supply Inc. here.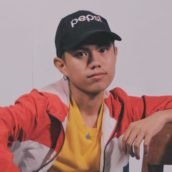 Renzneil Robles
Renzo is an introvert who prefers to do things at his own pace. Unlike most writers, he reads lazily. Watching Korean dramas at night is his constant source of comfort. Although oftentimes commended for being outspoken, he speaks better through writing than with his words.