SB19 opens up about difficult journey from trainee days to stardom
SB19 composed of Pablo, Josh, Stell, Ken, and Justin cemented their place in the P-Pop scene. Early this year they became the first Filipino and Southeast Asian act to be nominated for "Top Social Artist" in the Billboard Music Awards. Breaking through the local scene was never easy. In an interview with Toni Gonzaga, SB19 shares their journey from trainee days to stardom.
SB19 details their difficult journey
Toni asked them how many years did the boys spend on training. Pablo answered that they are training every day including Saturday and Sunday so they lost track of time. They'll just continue training without even knowing what day is it already.
Moreover, Justin shared that there comes a point during trainee days that all the trainees leave one by one except Stell. Stell, then, said that he was focused that time and that's what he really wants to do for the rest of his life. The members did not get a salary during their training years, and they sacrificed their regular job to pursue their dreams.
Pablo reveals that there are points where they do reality checks since everything seems uncertain. They asked themselves if it's still the right thing to do or should they just stop training.
"Dapat po kasi talaga may backup plan ka pag ganon eh. Lalong-lalo ang hirap ng buhay, na parang tatlong taon na po kami nagti-training tapos wala pa ring nangyayari. Mapapa reality check ka talaga na parang 'oh, tama pa ba itong ginagawa ko?' tapos lahat ng tao sa paligid mo sinasabi 'itigil mo na yan, grabe tatlong taon wala ka naman nakukuha diyan, wala ka namang napapala."
SB19 did not give up on their dreams
After the trainees left, Josh shared that when he stepped out of the building he feels bothered. He felt that he needed to go back because Stell stayed. Also, he came back since he realized that he already invested a lot in training. He stated that if you do not give it another chance, you would not be able to prove to yourself that you can do it.
"Kung naniniwala sya, [Stell] bakit di ako maniwala rin? So bumalik po ako. Itong career ko sabi ko 'Marami na rin po akong na-invest at parang gusto ko bigyan ng chance' kasi nga po kung susukuan mo at 'di mo bibigyan ng chance 'di mo mapapatunayan sa sarili mo na kaya mo. Kung may bagay na ita-try mo ibigay mo na lahat."
For Ken, he stopped studying because he wanted to rest first. Luckily, Josh reached out to him to try joining the group their company forming. Ken got intrigued since he loves dancing. He did not have any money to pay for plane tickets so Josh paid for him. He also revealed that he only got 1,500 Php on hand when he arrived in Manila. Justin shared that the 500 from his money was used to pay for a short trip on a cab. Unfortunately, the taxi driver scammed him.
During the early days of SB19's career, they admit that they received a lot of negative comments. However, it's not a big deal for them as what matters is they receive more love from the A'tin than hate comments.
SB19 journey to stardom inspires people not to give up
SB19's road to success was never smooth. Pablo, Josh, Stell, Ken, and Justin's journey serves as an inspiration to everyone. They remind us to keep believing in ourselves. Whatever you are experiencing right now, even if it seems impossible do not give up on your dreams.
I met SB19 in their early debut days when they were not as well-known as they are now. I admit I did not know them before. Seeing them now, they achieved a lot. With their hard work, and sacrifices paired with their talent indeed they deserve all the love and support they are getting.
SB19 will release their first EP "Pagsibol" on July 22. P-Pop rise!
https://www.youtube.com/watch?v=uVUhk2m9YxQ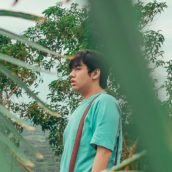 Ivan Royce Pedron
Ivan Royce is a journalism student from Cavite State University. Aside from being a writer, he is also a video content creator, photographer, and graphic designer. He likes to drink…. Coffee, tea, or maybe alcohol. Ask him for recommendations!