Rico Blanco says on collaborating with Maris Racal is a blessing
Working with people you love seems exciting. Former Rivermaya frontman Rico Blanco shared some details on what's like working with girlfriend Maris Racal as a collaborator.
On July 16, Rico Blanco goes live for a MYX interview regarding his nomination in the upcoming MYX Awards. He was asked how hands-on he is when it comes to his artists. Moreover, on working with his girlfriend Maris Racal he said.
"Kay Maris, people know that we're in a relationship, but when it's music when it's art, we talk sa level na ganoon. We're always excited. It's a great thing to have when you work with the people you love. That's a blessing."
Rico on working with Maris
Maris announced her relationship with Rico last May. Moreover, it would be easy for people to assume that Rico influences how Maris makes music. He then cleared it up that Maris has written her own songs.
"Sa social, non-music world, the bigger thing for them is the relationship. That always fascinates people, when two people they know are in a relationship." 

"But Maris has been writing songs even before she met me, and she has great songs. I'm careful about that."  
In 2019, Rico and Maris had their first collaboration for the song Abot Langit. He, then, clarified that the song was almost done when Maris presented it to him.
"I did help out. Naka-porma na 'yung kanta. Tumulong ako sa second verse and the arrangement. We worked together to sharpen. It was a collaboration, but nauna siya, ginawa niya na 'yun. 'Pag ganoon, I want people to know, siya 'yan. Idea niya 'yan."
How Rico handle projects of his talents
In 2019, Rico founded Balcony Entertainment, a recording company. Some of the artist under the label includes Ebe Dence, lZild Benitez, Raven, Ashley Julianne, and his girlfriend Maris Racal. He explained that every artist creates their own music and he will just add some final touches. 
Last June 23, Maris Racal unveiled her new song Ate Sandali. Rico Blanco arranged and produced the song.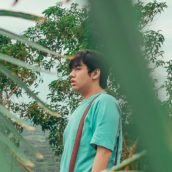 Ivan Royce Pedron
Ivan Royce is a journalism student from Cavite State University. Aside from being a writer, he is also a video content creator, photographer, and graphic designer. He likes to drink…. Coffee, tea, or maybe alcohol. Ask him for recommendations!