Rico Blanco is proud of GF Maris Racal for 'Asa Naman'
It's really a great feeling when your romantic partner feels proud of your accomplishments. It's okay to strive for success on your own, but heartfelt support from the person you love is such a big bonus. Boys, better take note of how supportive Rico Blanco is to Maris Racal on the launch of her new single "Asa Naman."
A musical couple
Village Pipol previously reported that Rico founded Balcony Entertainment in 2019. To recall, this is a recording company and some artists under the label are Ebe Dancel, Zild Benitez, Raven, Ashley Julianne, and his girlfriend Maris. He explained how every artist creates their own music and he just adds some final touches.
Last June this year, Maris introduced her new song "Ate Sandali." Of course, Rico arranged and produced the song. This time, he is the producer and co-writer for "Asa Naman."
The video was DIY-ed by Maris and Rico, with the musical couple directing, Maris handling the styling and production design, and Rico shooting and editing.
A tribute to her roots
"Asa Naman" is a catchy Bisaya-Tagalog song about the frustration of waiting for love to show up. Maris elaborated on the song's message, saying
"It's not just straight-up a song about hate and disappointment, but it also shows duality: in the sense that there's still that level of hope in salvaging whatever there is in the relationship… how things are not as straightforward as we hope they could be."
The singer chose the dialect to honor her Bisaya roots as she grew up in Tagum City, Davao del Norte. She added,
"It all started when Rico suggested I write an entire song in Bisaya. It was appealing to me of course, but I was also worried that not everyone would understand it, so after a fair share of discussions (and even debates), I decided that the verses would be in Tagalog and that the choruses would be in Bisaya."
As of writing, the music video has garnered more than 358,000 views and several positive comments.
One YouTube user even posted,
"asa naman wordplay is so dayum great. it means "asan ka na" if tatagalugin. and if you base it in tagalog language, it means "you wish" in a sarcastic way."
Congratulations Maris!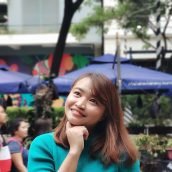 Queenie Lastra
Queenie Lasta got her bachelor's degree in Communications Research from UP Diliman. In her free time, she likes to read thriller novels, psychology books, and mangas. She believes in the importance of grit, hard work, and passion to become a great writer in the future.