"It takes a village to make a queen."
Julie Tarrayo believes that every encounter she had with people from different walks of life help her be the queen that she is today.
"My experiences outside of pageantry helped me be patient and wise in dealing with people. It taught me to see things in all aspects. You have to see things not only from your own point of view but from others too."
Then, Julie took these experiences, packed them up with her pageant heels, and brought them to the Miss World Philippines 2021.
Armed with her different interpersonal encounters and experiences, this queen is ready to take the crown.
A DIFFERENT DREAM
The 25-year-old homegrown probinsyana grew up as the eldest of six children.
Recalling her childhood, competing in pageants was not a childhood dream for Julie.
"I was actually a boyish type of girl when I was growing up. I was surrounded with guys as I'm always one of the boys."
Contrary to what she is pursuing now, Julie's childhood dream was to be part of the police force like her father.
"I admire my dad and his work so I wanted to be one too. However, my dad didn't really want me to be a policewoman and go through all the things he went through."
FALLING FOR PAGEANTRY
Since her dreams of joining the force had come to an end, Julie simply focused on her studies.
During one of her classes, Julie was asked to do one thing so she can have a high grade: to join a pageant.
Hesitant at first, she only thought of her grades so she decided to push through with it.
Despite not getting the crown, organizers asked her to join again, to which she agreed. That second time competing made her realize that she is starting to fall in love with pageantry.
"I eventually loved the feeling of being on the stage and walking on the runway and aside from that I love the feeling of being able to inspire other people,"
OPPORTUNITIES TO GROW
After that, Julie went to college, eventually graduating with a degree in Tourism Management.
This moved here to find more opportunities to grow and to lead her closer to her main goal.
"Almost 6 years ago, I moved here in Manila to get to know more about life and to attract opportunities that will take me closer to my visions. I am an optimistic person and because of that, I always choose to see the good in the bad, and I live with the codes,"
Indeed, opportunities began coming for Julie. She found work as a passenger service attendant, then became a VIP Croupier.
Then, she returned to her hometown of Allen, Northern Samar last year to become an entrepreneur, managing her family's coconut business as its Vice President of Operations.
"It's just funny that I moved to Manila to find opportunities yet I went back to the province to build something that not only will help myself and my family but also the people in my community,"
A ROAD FOR ADVOCACY
Julie went on and took her work experiences to the big stage of the Miss World Philippines 2021.
Despite the competition being postponed indefinitely, she continues to be an advocate for agricultural infrastructure in the Philippines.
"We have a lot of resources that we can put into our leverage, but what we're lacking is the infrastructure that will help us build the product which we can sell internationally. Not only will it help our economy but it will also help the community by giving them livelihood and jobs."
With tons of experiences in the tourism and coconut business, Julie believes one common thing will help her be a driving force in the pageant: her interactions with different kinds of people.
"[They] helped me to be more patient and wise in dealing with different kinds of people. In the pageant industry, we get to encounter different kinds of people from different walks of life and as a beauty queen, I should know how to deal and interact with people because, in pageantry, you can never make it on your own."
Furthermore, Julie credits her experiences with people to her patience, wisdom, and different perspectives in life.
Thus, making her confident coming into vying for the crown of Miss World Philippines 2021 and giving back to those who helped her.
"Competing is never easy but competing with a good team behind you makes the experience more enjoyable and worthwhile. It's not just about the crown, it's about a group of diverse people who come together to get that crown not for an individual interest but for the purpose of serving others."
Good luck, Julie! May you continue inspiring others with your wisdom and courage.
Publisher | Richie de Quina & Gwynn Crisostomo
Editor-in-Chief | John Luke Chica
Junior Editor | Kobe Adam Joshua Laurena
PR & Advertising Manager | Josh Austria
Digital Manager | Allen Esteban
Words by Kobe Adam Joshua Laurena
Photographer | Mark Neto Diaz
Hair and Makeup | Japeth Mike Purog
Hair | Alexander Rol
Stylist | Kitkat Melo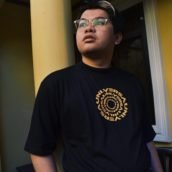 Kobe Adam Joshua Laurena
Kobe Adam Joshua Laurena is a writer who loves to tell stories from the perspectives of different people and everyday life. Apart from the pen, he loves to pick up the lipstick to transform into his frustrated drag persona: Anita Good Lovin'. He aspires to combine his love for writing and drag by creating a novel, short story, or screenplay about local drag queens in the future. He also has an obsession with sitcoms, women's pro-wrestling, and Funko Pops.