iKONICs all around the world have been gravely devastated by the sudden departure of one of the most iconic groups in the KPop industry. (I personally haven't moved on to this day) We have been very patient awaiting Kim Hanbin (B.I) and his debut as a solo artist. That's why this solo album is a very nice gift for all of us.
Kim Hanbin, with a stage name of B.I., is the former leader of the group. B.I lead his team—Team B—even before their debut in the survival show, WIN: Who is Next. He is known for his raspy rapping voice and charismatic persona. His nicknames actually include "Charismatic Leader."
I don't wanna talk about why he left the group and the allegations surrounding him because that doesn't matter anymore. What's incredibly important is that he came back with this incredible body of work.
B.I composed and co-written most of iKON's songs. That's what's most extraordinary about him. Aside from his amazing rapping and leadership skills, he is also a masterful songwriter. He is one of the best leaders in K-Pop history. That's why it is a great loss when he left the group.
IOK approved the agenda to appoint Hanbin under 131 Label as an internal director. Their homepage was down on the 28th, the day of the stockholders' meeting, and the worldwide Twitter trend ranking surged. This is evident of B.I's worldwide popularity.
On June 1, he dropped his first solo full-length album Waterfall. It contains 12 tracks:
Waterfall
illa illa
Daydream (feat. Lee Hi)
Numb
Illusion
Flow Away
Help me
Remember me
STAY (Feat. Tablo)
GRAY
Then
Re-Birth
He wrote and composed the title track of the album, Illa Illa. The music video for the song, also released on June has already garnered almost 17 Million as of writing.
The album, Waterfall is B.I's musical journey and appreciation of all the people who have helped and supported him along the way. It grabbed the No. 1 spot on iTunes Top Albums chart in 18 countries and regions. They include the Philippines, Malaysia, Norway, Hong Kong, Peru, Indonesia, India, Thailand and Singapore.
Selling 33,749 copies on Korea's Gaon Music Chart, the album placed third on the daily retail album chart for June 1. It also placed fourth on Hanteo Chart's daily physical album chart for June 1 with 33,868 copies sold.
When B.I talked about Illa Illa, he said,
I wrote the song wishing that it could provide comfort to those that listen to it. Everyone has their own struggles whether it be with relationships, work, family, loneliness. As much as it can seem difficult at the time, there is a beach in the distance. To remember that every chapter that closes just means that a new chapter is about to begin.
In Daydream, Hanbin collaborated with long time friend and colleage Lee Hi. He spoke about it by saying,
I wrote this song as a reminder of the dreams I used to have and feel. The feeling of waking up from a deep sleep and a sweet dream that seemed so real, covering up a cloudy and unfamiliar universe where I felt lost. Watching beautiful stars fall from the sky daily is how quickly a beautiful daydream can pass.
The last track, Re-birth is B.I's message to himself and to listeners about a new beginning.
Personally, it is really endearing to see Hanbin come back and debut as a solo artist. Despite all of the things that he has been through, he was like a phoenix rising from the ashes. iKONICs all around the world clearly still give him a lot of support. We will forever thank him for being such an inspiration and giving us the best songs.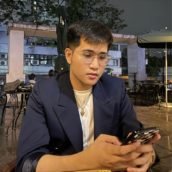 Raphael Garcia
Raphael is a person born between the generations of Millenial and Gen Z. He was produced by Cavite State University (Main Campus) with a bachelor's degree in Political Science. The lad has a fresh take on things, but can still stay true to his roots. He writes anything in Pop Culture as long as it suits his taste (if it doesn't, it's for work). He loves to wander around the cosmos and comes back with a story to publish.