Ivana Alawi is known as a Filipino-Morrocan actress, celebrity endorser, and YouTuber in the Philippines. Much of her popularity is bolstered by her strong social media presence. A lot of netizens love her not only for her looks but also for her charm, warmth, and humor.
Ivana Alawi spends a few hours as a homeless person begging for help from strangers.
In her latest heartwarming prank, Ivana reveals her soft-heartedness as she dressed up as a homeless person. Alawi smeared her body with dirt and wore tattered clothes to look the part. After that, she roamed around different locations as she begged random strangers.
During that vlog, she is playing the role of Inday, a beggar who was stuck in Manila. Inday is asking for help from strangers so she can get home in Baguio. As a reward for the stranger's kind gesture, she gives them PHP 1,000 for every peso they give.
As shown in the video, there are around 10 people who gave her money and food. She added, "Marami pa rin sa 'tin ang mababait, marami pa rin sa 'tin ang tumutulong sa ating mga kapwa."
A  compassionate street vendor helped her restore her faith in humanity.
The last person who helped Ivana Alawi during her disguise is a 58-year-old kakanin vendor named Joselito Martinez. Surprisingly, the street vendor kindly gave her money, food, and even offered to buy her soft drinks. While they were talking, the YouTube personality cannot help but cry because of his kind-heartedness.
As a way of saying thanks, she handed him PHP 20,000. Ivana shared her realizations during the vlog, "Lalo akong na-inspire to become a better person to help more people because people like tatay, they really deserve it. First time kong maka-experience ng gano'n, 'yong kukwentuhan ako tungkol sa life nila. Sobrang sarap lang."
Obviously, the experience opened her eyes to the realities of life. She also explained in the early part of the vlog that she has good intentions impersonating a homeless person. Ivana said, "Bakit ko 'to ginawa? Kasi araw-araw, kapag lumalabas ako, may nakikita akong mga taong kumakatok sa bintana na nanghihingi." She wants to reward the people who help others.
For this harmless prank, Ivana said that she wanted to experience the lives of the less fortunate for at least a few hours. She explained that she believes in the saying, "what goes around, comes around". Also, she encouraged others to extend help to those in need.
Ivana Alawi is a great example of a social media icon who uses her influence to touch lives and spread kindness. We hope she'll continue to serve as an inspiration to the youth.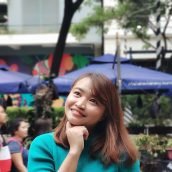 Queenie Lastra
Queenie Lasta got her bachelor's degree in Communications Research from UP Diliman. In her free time, she likes to read thriller novels, psychology books, and mangas. She believes in the importance of grit, hard work, and passion to become a great writer in the future.