When all hell broke loose, the only way to get out of the woods was to find peace with the calmness of the sea. With famous beaches full of people right now, how can you possibly find tranquility? Well, in the heart of the Philippines, Marinduque has a hidden gem for you—the Natangco Island.
A serene paradise
Natangco Island is part of Barangay Silangan at Mogpog, Marinduque.
It belongs to a protected marine sanctuary where 30 to 40 feet deep fringing reefs are all around the sea.
Its white sand beach is perfect for making sand castles and your Instagram photos.
Along with its clear and pristine water, you can also see starfishes and shells taken by the waves to the shore.
Moreover, the rocky formation on the coast also added a scenic view to the Island.
Nature's Gift and nothing else
Natangco Island is private property; aside from the beautiful beach and sand, what you will get there is nothing but yourself.
Because it's an unspoiled island, there's no hotel or restaurant in the place, so you will have to bring your necessities.
Likewise, locals advise visitors to bring their food, tents, or anything that could make them comfortable during their daytime stay.
You can only find transients around Balacanan town proper or at Boac, the capital of the Marinduque.
Seeing the depths
Despite of being small, Natangco Island is great for snorkeling.
This place is perfect for scuba divers, where the reef ends with a nearly vertical underwater cliff, about 130 feet to the sandy bottom.
Additionally, visibility averaging from 60 to 100 feet makes drift diving possible.
Marine Enthusiasts will also find this place amusing because, with its deep and crystal clear water, they can find marine life.
Aside from corals, the Island has butterflyfishes, Moorish idols, marlins, and manta rays.
The way to PH's heart hidden gem
Coming from the city, you can take a bus from Buendia or Cubao, which route is to Lucena Grand Terminal.
Next, you can take a van or a tricycle to Dalahican Port.
Then, aboard a RoRo traveling to Balanacan Port and from there, ride a tricycle or jeepney going to the municipality of Balanacan.
Lastly, upon arriving at the town proper, you can ask the locals where you can rent a boat that will take you to Natangco Island.
Visit the Island to find the peace you are longing for.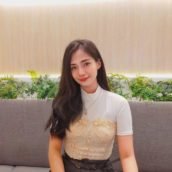 Veronica Louis Gannaban
Nica is a resin artist, watercolor painter, and writer. She loves putting art into life because it feels liberating. She believes that the most powerful form of art is through words, for it can set us free. Her life is sweeter than fiction because of Taylor Swift's music, fur babies, and chick flick movies.