Experience top-notch city living with Urbanize's list of shopping must-haves
The Holiday season is around the corner, and nothing beats treating yourself to essential products designed to help you get through the challenges of a cosmopolitan lifestyle. Urbanize, a premium brand that aims to make life easier and better, is the perfect gift for folks who are committed to maintaining a very slick but mobile lifestyle. From anti-theft travel bags to insulated tumblers, it gives stylish and cultured urbanites an opportunity to experience the outside world with much-needed comfort and security.
Village Pipol rummaged through Urbanize's wide array of shopping indeed must-haves to round up some of the finest presents that you can give to spread good vibes and cheers. Think of it as a gift guide for moving forward, all day every day or a life tool to accompany you in the daily grind. Whatever purposes it may serve, Urbanize stays in style and homeliness for a longer period of time.
Here are some notable products that you should check out.
UNO™ Ergonomic Rough Travel Pillow in Rough Slate
Of course, one of the reasons why consumers are instantly drawn to owning a travel pillow is to experience comfort. With UNO™ Travel Pillow, you don't have to worry about sleeping anytime and anywhere. It offers excellent support for your waist and back, while seamlessly fitting your head, neck, and shoulders. Additionally, it keeps you relaxed on a long flight or an arduous journey to the far countryside.
Pacsafe Anti-Theft Vibe 20L Backpack
Designed specifically for commuters and travelers who want to keep their important valuables secured, Pacsafe Anti-Theft Vibe 20L Backpack allows you to zip through the metropolis without worrying for your safety. It also doubles as a lightweight bag that fits your 13" laptop. With a versatile design that you can use for work-related purposes or leisure travels, it's a go-to, slash-proof backpack to ensure a hassle-free experience in and beyond the city's confines.
The Coldest Water 1 Gallon in Tactical Black
Keeping your drink cold for up to 70+ hours and hot for 13+ hours, The Coldest Water remains this publication's top pick for being the ultimate hydration buddy. Performance-wise, it has an excellent grasp for temperature control, making it an ideal tumbler for people who are always on the go. Whether you're the adventurous type who invests in hydration or a professional hustler doing an extraordinary job at work with hot or cold coffee by your side, The Coldest Water guides you in your journey toward finding the tumbler of your dreams.
See Also
Check out the other items from Urbanize: https://urbanize.com.ph.
For more information, make sure to like and follow Urbanize's social media pages.
FB: https://www.facebook.com/urbanizeph
IG: https://www.instagram.com/urbanizeph.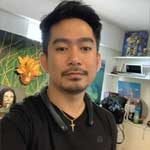 Josh Austria
Aside from being a businessman, Josh Austria has been working in PR and media industry for more more than a decade. From his years of experience as the Marketing and Advertising Head of Village Pipol Magazine, he has built strong relationships with creative people, brands, and organizations.