DENȲ gives her best in the craft she was born to do
Ever since she was little, DENȲ knew that a passion for music ran deep in her veins.
It all began when she saw her father and other family members devoting their time to their love for music.
Made for music
DENȲ told Village Pipol in an exclusive interview,
"Music was definitely something I knew I got to live for as a kid. My dad loved singing, my family loved listening to all types of songs, and I think seeing that also had an effect on how I was influenced to grow to love it as well. Music immediately caught my interest as soon as I was able to talk, and it was something that felt so natural to me,"
However, the singer took some time to discover what she wanted to do in the musical realm.
"I also had to discover within myself how I wanted to do it, why I wanted to do it. I had to explore to know what kind of artist and person I wanted to be, and there are so many possibilities to choose from. Finding your artistic identity (or identity, for those outside of art) is not an easy feat and a lot of us know this,"
DENȲ had different musical aspirations back then, from being a stage actress to an instrumentalist to being a music teacher.
Yet, her mind made up after discovering the talent of putting words into songs.
"[M]y true desires became clear when I discovered that I had what it took to write my own songs. Thinking about how I'd be able to sing about things I've felt and seen personally, I mean, the idea itself was amazing to me."
After the rigorous process of creating her first track, DENȲ knew in herself that she was born to be a singer-songwriter.
"So when I finished writing my first track, after all the mind changing, the trials and errors I went through, and I felt the satisfaction of being able to express my own experiences while contributing a positive impact,"
The story behind her name
DENȲ describes the story behind her screen name as "spontaneous and simple" as it was during the time she was already finalizing her first track.
"A few friends [and I] were just finalizing the first track I recorded, and we tried to think of what monikers would fit me most. I knew I didn't want anything too deep, so we just threw in ideas that sounded like my real name,"
All went back and forth with ideas until one friend of hers thought of the name "DENI! But spelled with a Y!"
"I thought it sounded cool and it just felt right. That's basically how DENȲ came to be,"
A voice for her audience
By March 2020, DENȲ would release two singles called "Deserve It" and "Weakness."
Both served as her debut as a singer-songwriter in the original Pinoy music (OPM) scene.
She would continue releasing more music since then and her efforts would soon reap its fruit.
A year after, she released "Gusto With Ya" which currently has almost 1,000,000 streams on Spotify.
For DENȲ, one of the best moments of being a singer-songwriter is seeing how much her listeners could relate to her music.
"One of the best moments I've had as a singer-songwriter is seeing how much people relate to something I've created that's so personal, I never thought it'd resonate as much as it does. I've seen and heard a lot of comments from my audience saying that they feel like my songs were written for them, it's adorable!"
DENȲ believes she does music for many reasons. However, she feels something different when being a voice for her listeners.
"I do music for a lot of reasons, but being able to deliver messages that make people feel like they're included and that they're not alone, it's a different type of fulfillment,"
Good things coming
Despite not being in the music industry for too long, DENȲ still faced some struggles in her journey.
She cites finding platforms for her art as one of her top struggles.
"I was blessed enough to be noticed by some of the most wonderful people who share the same passion and vision as me, but it wasn't always like that."
DENȲ, at first, faced financial struggles. She did not have the money, but she got to push it through thanks to the support she received from friends.
"I knew I had my talent, my sincerity, my hunger for hard work, and most importantly, good friends who support and help me in many ways they can. They were the ones who encouraged me to do things I always thought I couldn't like songwriting. I was able to create my first single because of my friends, and because of my first single, my current label was able to hear my work,"
For her, surrounding herself with genuine people and being genuine with the self can be able to help people who do what they love in the long run.
"My friends really are always a big part of how I get to where I am and wherever else I want to be. So I guess what I'm trying to say is if you're facing the same problems as I did, surround yourself with genuine people, and be genuine as well. If you believe in good things, have good intentions, and always give your best, good things will come to you too,"
Making the right decision
Indeed, her genuine self would soon reap its fruit after signing with the record label WAYBETTR.
Through her viral song "Gusto With Ya," she was able to turn the heads of producers from the label.
It all goes back to mid-2020, a time where the COVID-19 pandemic was a bit fresh.
Back then, DENY had limited resources for producing more songs. Still, she pushed herself to create.
"I couldn't make music the way I wanted to because I was short on equipment and I didn't know much about producing. I was really confused, but all I knew was I wanted to create something. So, I borrowed my sister's old laptop, tried to make a demo beat, and wrote the first idea that came to mind: a song that will represent my values when it comes to relationships,"

See Also
Although she felt great with the song's outcome, she felt the instrumental needed to be remade.
This is where WAYBETTR entered the picture. By late 2020, they contacted DENȲ, asking her if she wanted to be part of the record label.
"I said yes without any hesitation because I've been a fan of the collective and been watching their work since their establishment!"
After agreeing to be part of the label, she met up with the team, who then listened to her demo for "Gusto With Ya."
The producers all helped DENȲ improve the track, which led to the success it is today.
"After this, I met up with the team, made them hear my demo and our (and I take pride in saying this) ー amazing set of producers: NJ, NEXXFRIDAY, and MADEINDVN helped me vamp up the track by reproducing it, we then released Gusto With Ya as my and the label's first official single, and the rest was history,"
Being yourself
Flying high with the success of "Gusto With Ya" and the recent release of her newest song "Like Me," DENȲ shares some advice to aspiring singer-songwriters: to always be yourself.
"Having different idols and getting inspiration from them isn't wrong, we all do it. But sooner or later you gotta think and decide about who you are and who you wanna be as an artist,"
Moreover, she believes how sincerity is the key to success in whatever people want to do in life.
"Keep writing, keep trying, keep practicing, and eventually you'll develop a style and image that only you have. That's how people will remember you. That's what's gonna set you apart from everyone. I truly believe sincerity and genuineness plays a big part in being successful about what you do."
An uncertain but beautiful future
When asked what is next for her, DENȲ admits she is uncertain but believes her future will be beautiful.
"I got so much to do and so much to experience with the people I love, the people who love me, and just those who are around,"
Lastly, she talks about time and how excited she is for where it will bring her.
"Who knows, I might have world tours and break records I never imagined to break, I might get collaborations with my favorite artists like BTS and Kehlani. Let's just let time tell us how it goes. It's exciting!"
And we cannot wait for what the future holds for you, DENȲ. Good luck and we wish you all the best!
Publisher | Richie de Quina & Gwynn Crisostomo
Editor-in-Chief | John Luke Chica
Junior Editor | Kobe Adam Joshua Laurena
PR & Advertising Manager | Josh Austria
Digital Manager | Allen Esteban
Words by Kobe Adam Joshua Laurena
Photographer | Patrick Regidor
Styling | Andrei Medua
Studio | TMP Creative Complex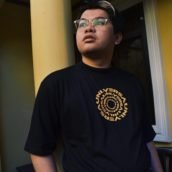 Kobe Adam Joshua Laurena
Kobe Adam Joshua Laurena is a writer who loves to tell stories from the perspectives of different people and everyday life. Apart from the pen, he loves to pick up the lipstick to transform into his frustrated drag persona: Anita Good Lovin'. He aspires to combine his love for writing and drag by creating a novel, short story, or screenplay about local drag queens in the future. He also has an obsession with sitcoms, women's pro-wrestling, and Funko Pops.