From saltwater and freshwater fish to deep water shellfish, we Filipinos cannot get enough of seafood. They are nutrient-rich, serve as a good source of protein, vitamins, and minerals. Aside from that, they are rich in omega-3 fatty acids that can reduce the risk of common heart diseases. However, not all of us can wake up early and head to a wet market to buy the freshest seafood. So if you're planning to prepare grilled tahong or shrimp sinigang, consider ordering from this online shop Malabon Fresh.
Make adjustments for your business to adapt to the current situation
The couple Herbert Jigger Mendiola and Maricel Mendiola are proud and industrious owners of the Malabon Fresh and they came up with this seafood online business November last year. The idea blossomed from the help of  Herbert's younger sister since she was the one who started in online selling, via "Paccube". He added, "Actually, it was her idea that we try & sell seafood online and since we are in the seafood industry for over 35 years now, we thought that it was a new and excellent idea. Also, the present generation is much into online transactions."
Similar to other business ventures during the pandemic, Malabon Fresh also encountered some difficulties. Their main issue is making the business survive financially since many people choose not to go out so their customers became less.  Even this was the case, the couple managed to adjust to the new normal which led to a huge increase in their sales. Herbert shared their experience, "Our business offers delivery of fish and seafood. Maybe it's not good to say, but the pandemic has turned our small business into a very busy one. Ever since the lockdown started, there has been a massive increase in our sales. Since most people cannot go out, they relied on food delivery services like us."
The adjustment is not an easy thing for the owners of Malabon Fresh. As it was a small business during that time, they lacked the staff to accommodate all orders. They resorted to scheduling their delivery service and there was the cancellation of orders because of that. But after a few weeks, they were able to hire an additional crew. These changes resulted in improving their productivity in serving our customers.
With this, Herbert told a bit of good advice for those who want to start their own business, "If you have an idea, start it now. But don't quit your job. Do it as a side hustle first and work your way up slowly but surely. Start something that you love to do and you're good at it. Remember that starting a business is like planting a seed, it will not bear fruit the next day. You have to be patient and work hard before you enjoy the fruit."
Malabon Fresh offers a wide variety of the freshest seafood
Now, Malabon Fresh is an online store of fresh & high-quality fish and seafood with delivery service within Metro Manila. Herbert and Maricel know it best when it comes to these marine delicacies. They also have a consignation in Malabon Fishport & Navotas Fishport so they can guarantee to deliver the freshest harvest right at your doorstep.
The best-sellers from Malabon Fresh are Bangus, Shrimp, Squid, Lapu Lapu, Galunggong, Tilapia, Salay, Dalagang Bukid, Bisugo.  The owners noted that they sell all kinds of seafood. Herbert also said, "We take pride in delivering only the freshest of fish and seafood to our customers. We do not store at our base. Our fish and seafood come straight from Malabon and Navotas fish ports and we get them only upon order."
If you are interested in ordering from this online seafood shop, you can message Malabon Fresh on its Facebook or Instagram accounts. You may also place your order thru their website or via Viber/DM at these mobile numbers: 0939-9260947 or 0947-9524125.
So this weekend, try ordering from Malabon Fresh for a sumptuous seafood feast to treat your family and loved ones. Remember, they are not just delicious but also good for your health!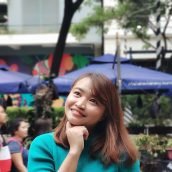 Queenie Lastra
Queenie Lasta got her bachelor's degree in Communications Research from UP Diliman. In her free time, she likes to read thriller novels, psychology books, and mangas. She believes in the importance of grit, hard work, and passion to become a great writer in the future.