The Growth of Jojo, Hye-Yeong, and Sun-Oh in 'Love Alarm' Season 2
At some point in your life as a person who isn't in a relationship, especially during this pandemic when all we do is eat, sleep, watch TV shows, maybe work from home or attend online classes, and they are all just in the repeat over and over again, you might have probably thought of joining dating apps.
The dating scene over the years has constantly evolved to the point that our older family members don't understand how it works. It changes through time as our principles do too, which led to the birth of dating apps, such as Tinder, Bumble, Tantan and so much more. But what if the dating apps don't just involve swiping right and left with potential romances?
Love Alarm Season 1, the live-action adaptation of the popular webtoon by Chon Kye-Young, introduced a mobile app that sends out a notification when someone with romantic feelings approaches within a 33-foot radius of you. With an entertaining storyline that anyone who has been in love can relate to, the show has earned praise and opened a new chapter in the Korean young adult romance genre known as "high-teen."
Season 2 is a continuation of the love story of the three main characters—Hye-Yeong, Jojo, and Sun-Oh. It has been four years since the release of the mobile app, Love Alarm, which sends you a notification when someone who is romantically interested in you appears within a 33-foot radius. In this world that no longer requires you to express your feelings in words, Jojo, Hye-Yeong, and Sun-oh come face to face with the memories of their first love. Hye-Yeong continues to quietly stay by Jojo's side. Sun-oh still cannot understand Jojo's sudden change of heart. Jojo tries to find the courage to show her true feelings, for the good of everyone involved, but it will be a really hard thing to do.
What should you look forward to in Season 2?
Hye-Yeong and Sun-oh each struggle to adjust, in their own way, to the changing world where expressions of love and much of daily life have been impacted. As a result, they grow and mature. Jojo tries to shed herself of the shield she uses to protect her heart, realizing it has become a harmful weapon against Hye-Yeong and Sun-oh. Hye-Yeong tries to win over Jojo's heart in the tried and true way of directly expressing himself to her. Sun-oh, though hurt by Jojo's Love Alarm that ceased to ring for him, tries to not listen to the alarm but look into her heart. The love triangle among these three deepens, their relationships connected and disconnected by the Love Alarm, in a world changed by it.
In the words of the leading actors:
Question: What's different from Season 1?
Kim So-Hyun (Kim Jojo)
Jojo became more mature. The time spent with Hye-yeong has given her comfort, and she
gradually becomes a stronger person. Chiefly, the restraint of not being able to ring Love
Alarm has caused her great suffering and pain. Seeing things from her psychological
perspective really helps in understanding her relationships with Hye-yeong and Sun-oh.
Jung Ga-Ram (Lee Hye-Yeong)
Hye-yeong has eyes only for Jojo. He rings her alarm ten times daily and silently holds his
place by her side. He continues to ring the alarm for her, never giving up hope that
someday her love for him will set off his alarm. Then, one day he discovers the truth about
his father. He despairs and needs someone to lean on, but he doesn't want to burden Jojo.
Song Kang (Hwang Sun-Oh)
It would not be an exaggeration to say that Sun-oh from Season 1 is different from the one
in Season 2. Director Kim Jin-u wanted to show a more mature character, so I toned down
his playful ways. Being a playful person myself, that was hard in the beginning, but after a
while, I was so into the character that I didn't feel like myself being silly. And I spent a lot of
time and effort studying Sun-oh from Season 1 so that he segues convincingly into a more
mature character. Viewers can definitely look forward to seeing a more sophisticated
Sun-oh, shed of his childlike ways.
Question: What are Season 2's highlights?
Kim So-Hyun (Kim Jojo)
The biggest factor is how Jojo overcomes her pain. The other points of interest are how
Jojo, Hye-yeong and Sun-oh mature and come to terms with their complicated
relationship.
Jung Ga-Ram (Lee Hye-Yeong)
Season 1 had us learning about one another and our feelings. In Season 2, we learn more
about these feelings not by relying on the app but by being sincere. We learn to grow and
to heal in the process. Jojo finally opens her heart to wistful Hye-yeong, and he is rather
adorable with her in their budding romance. I was excited and happy to play that part and
hope that I don't disappoint.
Song Kang (Hwang Sun-Oh)
Season 1 was about teenage love, whereas Season 2 is about more mature romantic relationships. Since the romance occurs through an app, keeping that perspective
centered can help the viewers enjoy the show better. There is much fun and healing in
Season 2, so I hope they come back.
What should you know about the perspective of the director of Love Alarm?
Question: What elements were important to you in directing the series?
I tried to fine-tune the intriguing unfinished story of Jojo's trauma and the changes in the characters' emotional landscape. I was personally drawn to the narrative voice and the allegorical fantasy elements of the original webtoon. So I thought long and hard about the
most appealing ways to present them. I tried to express them through animation and other
methods while preserving the creative intent of the original work.

And Season 2 differs from Season 1 in tone and manner because it addresses coming-of-age themes for a group of recent high school grads entering college and society. If the raw energy of adolescent youth was the main marker of Season 1, then Season 2 presents more grown-up themes. I think the viewers who watched the previous season will find it interesting to watch the characters grow in meaningful ways. Social issues that arose from the advent of the Love Alarm app are also addressed. I tried to show the viewers how the characters are affected so that they can relate.
Question: What changes and developments are evident in the characters in Season 2?
The character who visibly transformed the most is Sun-oh. The side of him that is self-centered and independent showed strongly in Season 1. But in Season 2, he defines his identity by the relationships he has with those around him. Likewise, Hye-yeong's tendency to think and to bear responsibility independently was strong, but in Season 2, he learns to work out his problems within the nexus of his personal relationships. Jojo is the driving force behind the changes in all the characters, and she uses this leverage to face and overcome her own trauma.
It seems like a lot of the questions raised in the first season will be given answers in this second one. Learn more about the formed love triangle between Jojo, Sun-Oh, and Hye-Yeong. Watch it on Netflix this March 12, 2021!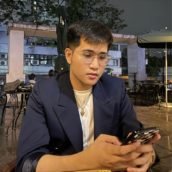 Raphael Garcia
Raphael is a person born between the generations of Millenial and Gen Z. He was produced by Cavite State University (Main Campus) with a bachelor's degree in Political Science. The lad has a fresh take on things, but can still stay true to his roots. He writes anything in Pop Culture as long as it suits his taste (if it doesn't, it's for work). He loves to wander around the cosmos and comes back with a story to publish.