THE CHERRY ON TOP: barenbliss Cherry Makes Cheerful Lip Velvet
barenbliss is known for their lippies to die for- the Peach Makes Perfect Lip Tints and Berry Makes Comfort Lip Mattes. Each of these got their own personalities but there's one more series everyone needs to get their hands on. The barenbliss Cherry Makes Cheerful Lip Velvet is the cherry on top for the BNB Lippie Collections!
This cherry bomb is the biggest hit in the K-Beauty trend. K-Pop idols always have that luscious gradient lips all the time and often people think it's all about the Lip Tints or Matte Lipsticks. Don't get us wrong though, they both are extremely outstanding on their own but there's another product that changes the game to achieve that perfect K-beauty look!
Certainly, one swipe is enough to get that famous K-Beauty gradient lip, and with another, gorgeous full-looking lips is the result. Moreso, there are 6 shades to choose from. Talk about variety, am I right?
💗 01 Blushed Moment, Seamless Pink Nude
☁️ 02 Rosewood Dream, Soft Rosy Red
🍒 03 Cherish Delight, Burnt Cherry Mauve
🍷 04 Wine Thrill, Vivid Red Wine
🍂 05 Autumn Walk, Medium Terracotta Red
⛅️ 06 Summer Sunset, Intense Orange Brown
Perfect for any event! Now let's talk about its difference from the Peach Makes Perfect Lip Tint and Berry Makes Perfect Lip Matte. While the Lip Tint would provide you a glossy finish and the Lip Matte a shine-free natural looking lips, the barenbliss Cherry Makes Cheerful Lip Velvet will leave you with that seamless-velvet look.
MORE ABOUT THE barenliss LIP VELVET
This cherry-scented mousse lip velvet also contains Macadamia Organic Oil, Vitamin E, and Hyaluronic Acid that plumps and moist your lips both at the same time. Plus, this is a skincare-infused makeup product that last up to 24 hours, similar to all of BNB's lippie collections.
No need to think about it! Be at the top of your K-beauty game with BNB's Cherry Makes Cheerful Lip Velvet collection! You know velvet has never been this good.
GET YOURS NOW at any Watsons store: https://villagepipol.com/bnbaes-barenbliss-is-now-available-in-watsons/?fbclid=IwAR1o-63VAtaQjgXYCACordN-1omIdDUOONw9ZdtBuu32B9OtNBfkHwxxyoM
About barenbliss
Barenbliss (벨 엔드 빌리스), shortened as BNB, is a fun and joyful K-beauty brand designed for global youth, created by Korean Makeup Artist Jina Kim (김진아). Since its launch in South Korea, the brand has gained beauty editor's award from Beauty+ and editor's recommendations from GlowPick, Allure, based on its high-performance and attractive design.
Going from "beauty in-joy" and the brand's unique "B+N+B" Philosophy with Bare essentials, No harm, and Bliss moments, we are committed to create epic enjoyable and pay-off products. Complete your real Korean girl's look and go where your heartbeats.
barenbliss is now available on:
For more barenbliss content: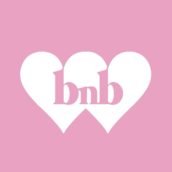 BNB Team
𝒃𝒂𝒓𝒆𝒏𝒃𝒍𝒊𝒔𝒔 (bnb) Beauty Lab was founded by the best scientist to create innovative products. Based on its scientific and pure formula, barenbliss combines natural and scientific ingredients, it removes all harmful ingredients and created the pure 𝑩+𝑵+𝑩 formula to create a new lifestyle that is suitable for all skin types, making this brand a makeup and skincare hybrid.