The ever-reigning P-Pop kings SB19 finished absolute victory anew in the recently concluded TikTok PH Awards 2022.
TikTok is an international video-sharing platform with over 33 million users in the Philippines alone. In 2021, they launched their first-ever awarding event in the country to recognize outstanding content creators.
This year, SB19 was nominated under the bracket "P-Pop Group of the Year." Besting 20 other P-Pop acts, the quintet dominated the category with a whopping 1.17M final tally. In consequence, they powerfully secured an almost 300k gap against the others.
Apart from SB19, their fandom A'TIN deserves recognition for winning. They poured all the hard work into the 10-day voting period lasting August 2-12. As a result, SB19 consistently maintained a strong lead that kept all other nominees behind the trail.
Meanwhile, BGYO, BINI, and MNL48 came in the following places. Their admirers exerted the same passion for their idols. Along with all participating fanbases, the display of dedication proves the thriving landscape of P-Pop.
In addition, more groups vied for the same acknowledgment in the TikTok PH Awards 2022. The list includes VXON, KAIA, Press Hit Play, ALAMAT, Calista, LITZ, G22, Ver5us, and XOXO.
Likewise, 4th Impact, 1stOne, SB NewGen, YARA, DIONE, P-Pop Gen, R-Rules, and DAYDREAM also took chances in clinching the title.
Controversy in TikTok PH Awards
For this year's edition, TikTok PH awarded the victors at the New Frontier Theater, Araneta City, last August 20. The said event housed several celebrities, influencers, and other personalities to witness the ceremony.
However, TikTok PH draws flak from certain fanbases after an unexpected announcement while naming the winners. They made a "surprise" reveal that four acts instead of one will be accorded the single P-Pop Group of the Year title.
Contextually, many fandoms fiercely battled for this category. With such a new rule applied, some were disadvantaged. Significantly, other fanbases were denied the chance to formulate appropriate strategies to achieve a target outcome.
Nonetheless, every P-Pop act represented by their supporters deserves to win. Still, the process must be subject to reliability with conditions made known to everybody.
After all, there should be nothing as a "surprise" in the premise of an award-giving body. When winners are determined through a voting system, they must be guided by precise rules and definite principles founded on a consistent criterion.
Fans have demanded an explanation from TikTok PH. As of writing, they are yet to comment on the issue.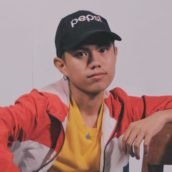 Renzneil Robles
Renzo is an introvert who prefers to do things at his own pace. Unlike most writers, he reads lazily. Watching Korean dramas at night is his constant source of comfort. Although oftentimes commended for being outspoken, he speaks better through writing than with his words.