We Filipinos are resourceful, and that's why our ancestors looked around to find a use for the things that are already available. Come to think of Bayong as a good example. Who would have taught that weaving dried leaves like buri, pandan, abaca, and others can result in a sturdy and functional bag?
End products of industrious Pinoy artisans, weavers, and painters
The functionality of Bayong is not limited to the wet markets or the beach. This is no longer a souvenir item. The Bayong Republic proves that these native items are versatile if you let your mind explore the possibilities. In fact, this can be your statement bag for 2021. We're not kidding that their bags can rival the ones you at the mall!
Let's take a look at them and get to know the story of Bayong Republic, straight from its founder and owner Ja Dela Cruz Griño.
It's been three years that Ja decided to share her ideas and passion for bayongs and native bags through her business. Her goal of innovating and promoting bayong back to the fashion mainstream is still ongoing.
According to this Bayong Republic owner, all raw materials for the bayongs are available here in the Philippines. She sources them out from different provinces like Quezon, Marinduque, Iloilo, and Laguna. Aside from that, Ja employs local weavers and bag makers who really need extra income for their families. The weavers make the handwoven bags from buri or sabutan leaves then they will dye them also.
To level it up, Ja also hired some Pinoy artists to upgrade the bayong bags.
"In order for us to do that, we have to make those bags speak. Through art, customers can express how they feel, their dreams, and what they've been through. Only by that, we can create a connection between a bag and a customer."
Normally, it takes 2-3 days to finish a native, hand-painted bag. However, it takes about 7 days to finish one during peak seasons from October to December.
When I saw the hand-painted bags from this homegrown brand, I'm really surprised that they are made from the buri or sabutan leaves. Some of its designs remind me of hand-painted Chanel bags of Ms. Heart Evangelista-Escudero. But the good thing is, you can get a classy appeal without the hefty price tag.
Since they are still bayong, these bags can endure our daily use and that's a huge plus if you often commute. Needless to say, they are more environment-friendly compared to bags made from synthetic leather and plastic. And it's true that they have a wide variety for you to choose from. There are large ones that you can use for shopping or a weekend getaway. The structured ones are quite nice for office use or date nights. They also have the cutesy small ones that are perfect for formal occasions. So pretty!
Breaking the stereotype that bayongs are just ordinary
Sad to say, Ja said that it's still hard to promote the stunning bayong bags because of the current mindset. Filipinos think that native bags are only good as gifts for balikbayans and foreigners. But this is not the case at all since The Bayong Republic received a lot of praises and positive comments from their customers. Some said that the bags are a masterpiece. One buyer even told Ja that she will stop buying branded luxury bags for a while and start supporting local!
The bags from the Bayong Republic range from PHP 170 to PHP 2K so for artisan bags, they are pretty affordable. The good thing is you can order them online via Facebook and Instagram. For orders of hand-painted bags, they accept bank transfers, GCash, and other remittance services. But for the plain ones, they can accept cash-on-delivery within Metro Manila only.
In terms of delivery, customers from Metro Manila can choose from Lalamove, Grab, Angkas, and Mr. Speedy. For provincial areas, options are LBC, J&T, and JRS Express. They even shipped bags in foreign countries through Federal Express or DHL. You can follow their social media pages for updates since they usually have 50% off on selected items!
Bayong Republic bags represent our culture as Filipinos and that includes the talent of our artisans, weavers, and bag makers. It also showcases the native materials which make us unique. We strongly believe that this brand deserves more attention and support as we are trying to revive the economy.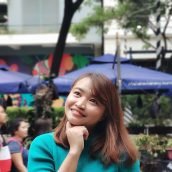 Queenie Lastra
Queenie Lasta got her bachelor's degree in Communications Research from UP Diliman. In her free time, she likes to read thriller novels, psychology books, and mangas. She believes in the importance of grit, hard work, and passion to become a great writer in the future.