Today, all of us cannot leave our houses without masks. It became a part of the new normal, an everyday staple. But more than that, it represents how Filipinos are striving to survive and many other stories. Designers from FaDAL are going to unite to tell us that narrative through art.
Filipino designers are aiming to help others through their art
In our past interview with Levenson Rodriguez, he told us about Fashion Designers Alliance (FaDAL) initiatives in general. Basically, they are doing what they can to make the local scene alive. Previously, this organization collaborated with Niccolo Cosme for the 'Banig' campaign. This time, they came up with a new campaign called ArtMask.
Levenson told us that they wanted something relevant that affected the entire world.
He added, "The mask is a reminder of how we've struggled/struggling. Yet, we are doing every way we can to weather this pandemic. It's  a reminder of how resilient we are."
Changing  The Fashion Narrative campaign is all about Charity through Creativity.
Levenson explained, "I wanted everyone to express their creativity with this mask. Ergo, it's a non-medical grade mask – It's not a fashion mask as well. It was Louis Claparols who suggested presenting it in shadow boxes to make it look more of a collector's item – I suggested including a Certificate of Authenticity – ARTMask"
The ARTMask's first exhibit on March 5 to 12 got its inspiration from countries that the pandemic heavily affected. Through this concept, they want to send a message of hope and unity.
"We might all be struggling in the creative field, especially fashion designers like us. However, there are others who are more in need of helping."
Meanwhile, the festivals of the Philippines influenced the 2nd exhibit on May 7 to 14. Lastly, Levenson Rodriguez imparted a message about the ARTMask:
"To inspire others to help in their own little ways. It warms my heart when I approached Leeroy New if he'd be open to supporting our cause by having Kondwi as our gallery partner for physical viewing of the exhibit, he said yes without hesitation. It will be their first physical exhibit since the lockdown."
As Filipinos, it must be our instinct to support our fellows in these times of need. Spreading awareness about these local events might be a big help for our struggling designers and artists.
Do you agree?
Words by Queenie Arguelles Lastra
Models | Kirk Jason Guillang and Larette Daine Buensalida of New Monarq
Photographer | Gerard Daduya
Stylist | Gee Jocson
Assistant Stylist | Steph Aparici Studio and Noreen Gabriana
Hair by Raffy So
Makeup | Carlo Roblico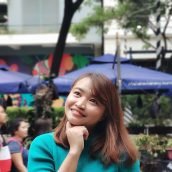 Hailey Alcantara
Queenie Lasta got her bachelor's degree in Communications Research from UP Diliman. In her free time, she likes to read thriller novels, psychology books, and mangas. She believes in the importance of grit, hard work, and passion to become a great writer in the future.