A lot of people love to spend time on YouTube for a lot of reasons. Some of us want to learn, laugh, catch up on pop culture. There are others who prefer jamming out to their favorite music or lean back for a show. Whatever the reason is, this platform keeps on rolling out new updates to make it easier for us to watch and interact!
New features in YouTube
Video Chapters
This functionality enables you to search a particular part of the video by letting you jump forward to a section or rewatch a scene. YouTube made this even better by including a new list view that you can tap or click. With this, you can view an entire list of all chapters included in the video you're watching. In that way, you save some time instead of going over the parts you're not interested in.
Improved player page
YouTube is making things more convenient for us as it moved the button to a more noticeable position. It also changes the position of the auto-play toggle so users like us can easily turn it on and off. Note that it only implemented these enhancements on mobile but they are planning to bring it on the desktop.
Gestures and playback controls
Generally, users prefer efficient gestures and tap controls on applications. Double-tap to the left or right means rewind or fast forward the video. This time, YouTube allows you to just swipe up or down to enter a full screen or exit from it.
Suggested actions
YouTube is also releasing this new feature that notifies the user to rotate their device or play a clip in VR to enhance the viewing experience.
Bedtime Reminders
We are all familiar with the digital wellbeing feature in our smartphones to allow us to balance our offline and online time. In connection to this, the platform is bringing bedtime reminders. It enables users to set reminders from time to time. As a result, you can stop yourself from too much binging on videos and go to bed.
Next time you are watching your favorite content creator, you can try these features and see for yourself if they are a hit or a miss!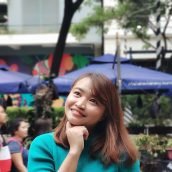 Queenie Lastra
Queenie Lasta got her bachelor's degree in Communications Research from UP Diliman. In her free time, she likes to read thriller novels, psychology books, and mangas. She believes in the importance of grit, hard work, and passion to become a great writer in the future.