Photo Credit: Mashable India
Locked down singles looking for love highly depends on Tinder. It is one of the world's most popular dating apps that people use to find their match. To prevent creeps and weirdos exploiting the feature to berate or harass their matches, the platform now includes a video calling feature!
Catfishing no more?
Some of us crave a romantic human connection when it comes to dating. But before you think of meeting your date physically under the quarantine, you might want to check out the first Tinder's new feature!
The Face to Face feature is not like your ordinary video chat applications. For one, both people have to opt into the call to make it happen. First, they have tap on the video icon in the right-hand corner of the text chat screen. After that, Tinder will prompt them to opt into video calls with the other person.  If they and their match do so, they'll be able to make the call. They can opt-out at any time.
Before calling, both people have to agree to keep the call wholesome. It means no nudity or sexual content and no references to hate speech, violence, or illegal activities. Once the call starts, Tinder users will see the screen split in half, so the caller can always see themselves as large as the person they're calling.
Aside from controlling the feature when you're chatting with a match, you can also disable the feature in general anytime on the app. Tinder also established some ground rules for the video call. These regulations are going to be flashed on your screens once both have unlocked the feature. Plus, you can send a report to their team at any point after the call ends.
Tinder already tested the feature in a few countries earlier in July. They began rolling it out globally on October 27. And because dating in the digital era is extra complicated, they've put in several ways to make these one-to-one video calls as safe as possible, especially from catfishing.
The concept may seem elusive but we really hope that Tinder users will put this into good use. Those who are looking for a romance or a flight might even enjoy the new feature.
What do you guys think?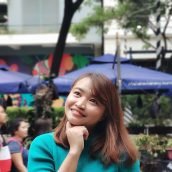 Queenie Lastra
Queenie Lasta got her bachelor's degree in Communications Research from UP Diliman. In her free time, she likes to read thriller novels, psychology books, and mangas. She believes in the importance of grit, hard work, and passion to become a great writer in the future.