Singapore candidate for Miss Universe 2020, Bernadette Belle Ong, was born and raised in the Philippines up until she was 11 years old.
Belle said in her "Up Close" video for Miss Universe posted on their Facebook page,
I actually came from the Philippines. I was born there up until the time I was 11 years old. In between that I was also living in Hong Kong for a year or two. I was really able to appreciate different roots of me being Filipino-Chinese, but also being immigrated in some very modernized yet traditional-centric community which is what Singapore really is.
On issues happening to the world, including the Philippines, Belle said,
My heart goes out to all of you guys! I hope you keep safe all the time.
Belle is not new to pageants. She competed in Miss Universe Singapore 2019 and she was crowned as Miss Charm Singapore 2019. Later she represented Singapore in Miss Charm International.
Ong flew to Florida on Saturday, May 1, to prepare for the 69th Miss Universe pageant on May 16. She speaks Tagalog, English, and conversational Mandarin, as per pageant website Missosology in December.
She said as she recorded a conversation with a Filipino in her Dubai stopover yesterday, May 2,
So many Filipinos in Dubai! Bump into [her] when I rushed off to a testing facility after dropping off my luggage,
She did not show the face of the Filipino that she met but they can be heard having a conversation about PCR testing in Tagalog.
Lim said that Belle will be trained by the team of Jonas Gaffud, national director of the Miss Universe Philippines pageant. She will spend most of the time in the Philippines with Mama J.
Last year, Mohana Prabha represented Singapore in the 2019 Miss Universe contest. She also trained under the pageant camp of Gaffud.
Meanwhile, Rabiya Mateo will be representing the Philippines in the pageant. There is a report last week about the partial tally of an online poll through the shopping app Lazada. She is currently leading while Singapore took the 10th spot.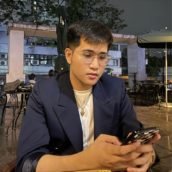 Raphael Garcia
Raphael is a person born between the generations of Millenial and Gen Z. He was produced by Cavite State University (Main Campus) with a bachelor's degree in Political Science. The lad has a fresh take on things, but can still stay true to his roots. He writes anything in Pop Culture as long as it suits his taste (if it doesn't, it's for work). He loves to wander around the cosmos and comes back with a story to publish.