2020 is the year that many of us struggled for our dreams. our hopes, and our ambitions. That's why it's very painful when things do not go as we planned. But the truth is, just surviving is truly an amazing feat. As a beauty queen and a COVID-19 survivor, Maria Isabela Galeria can testify about this.
On accepting the things she cannot control
Just October this year, Maria Isabela was not able to join as the candidate of Sorsogon for the Miss Universe Philippines. She was one of the heavy favorites to win the title. The 22-year-old model finished in the Top 15 during the Binibining Pilipinas 2019 pageant. But with a heavy heart due to her physical condition, she has to step back.
We, from Village Pipol, believe that this unfortunate incident should not prevent Maria Isabela from sharing her wisdom and a beautiful mind. So with a one-on-one interview, we were able to learn about her principles and experiences.
As a transparent person, this 22-year-old woman believes that it's not about projecting an image. She tries to live her day as it is and treat people with kindness and appreciation. Aside from that, she always tries to be a person she can be proud of without compromising her values.
For you, what defines beauty?
Beauty is subjective, it differs from one person to another. Beauty for me is intangible. It's strength and courage. Strength to rise above challenges and courage to face the world.
Do you feel the pressure as a beauty queen to always be a person of good influence?
Being a beauty queen gives you the venue to be of influence to a lot of people. As a public figure, I think it's best for you to be on your best behavior all the time because people look up to you. They follow you, and everything you do will somehow make an impact on their lives. So use this opportunity to be of good influence, Inspire and create a difference in the lives of many.



Designer | Job Dacon
How do you want to leave a mark in this industry?
I want to be remembered as someone who's not just physically beautiful. I'm more than that, this is why I am very invested in my advocacy which is to improve the accessibility of healthcare and information because I want to leave a mark of change, a change for the better.
What can you advise aspiring beauty queens?
As cliche, as it may sound, my advice to young aspiring beauty queens is to be themselves. This industry is tough, a lot of people will try to morph you into someone you're not, so your core should be strong.
Designer | Angel Esteban
Aside from imparting her thoughts as a beauty queen, Maria Isabela was able to share her experience as a typical young lady who has gone through a lot. A person who survived a lot of hurdles and experienced trauma from a fatal disease.
Did you have any regrets because of withdrawing from the competition?
I don't have any regrets. As you may all know, I've withdrawn from the competition because I tested positive for COVID-19. This is something I don't have any control over and it was a tough decision to make. I cried over countless nights about this but I realized that everything happens for a reason and God will not give me challenges I cannot conquer. I believe that God has plans for me.
We learned that you were COVID-positive. If it's okay, share with us that experience.
I started to develop signs and symptoms on September 27, 2020, starting with nasal congestion and loss of sense of taste/smell. I occasionally felt like there was something heavy on my chest. Fortunately, it was bearable and didn't progress to a more severe level of DOB (Difficulty of Breathing). I then started to manifest rashes accompanied by extreme itchiness and dry skin. I woke up last October 3 with red, itchy, and teary eyes. I was under a handful of medications for more than two weeks to manage my symptoms.
Designer | Mars Chua
Lastly, Maria Isabela expressed her message of gratitude for the support and love:
"It was emotionally and physically traumatizing. You don't know what's going to happen next, the uncertainty will make your heart and mind race. Fortunately, I'm blessed to have my family and friends right by my side(virtually and spiritually).

They never left our side even in the darkest times. The priceless support from the fans made me stronger than ever. With all the unending love from people, salamat po. After everything that happened, I am proud to say that I am a COVID-19 Survivor."
Swimwear by Bessie Besana
There's this popular saying that 'diamonds are made under pressure'. Indeed, Maria Isabel Galeria's character and strength is proof that she shines like a diamond. One that is shining brightly because of her determination, optimism, and faith.
Keep on going, Maria Isabela!
Produced by Josh Austria
Words by Queenie Arguelles Lastra
Photography | Jai Murcillo
Stylist |  Jowie Namayan
Hair by Jericho Valenzuela
Makeup | Paige Seneres
Shot in VP Studio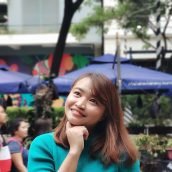 Queenie Lastra
Queenie Lasta got her bachelor's degree in Communications Research from UP Diliman. In her free time, she likes to read thriller novels, psychology books, and mangas. She believes in the importance of grit, hard work, and passion to become a great writer in the future.