Nivea Philippines welcomes Kathryn Bernardo as their newest endorser! This well-loved deodorant and much-adored actress go on a mission to give confidence to Filipinas living an extra demanding lifestyle. It didn't come as a secret that demanding schedules and coping with the new normal comes on everyone's minds. With all the stress going around, it doesn't come as a shock that people feel easily overwhelmed. 
When life gets a little too demanding, you need a deodorant that can keep up! Excessive sweat, bad odor, and underarm damage are the most common underarm concerns of Filipinas. As some deodorants can't answer all these concerns, some Filipinas tend to settle. Either: have fresh and order-free underarms and risk skin damage OR have beautiful damage-free underarms but at the expense of insufficient protection from sweat and odor. 
Kathryn Bernardo is the newest endorser for Nivea deodorant!
Nivea Extra Whitening Deo aims to cater to these pressing needs. So, Filipinas don't feel like they're settling with their deodorant. Nivea Extra Whitening Deodorant promises to not only keep sweat and odor at bay with 48H guaranteed protection but to also takes care of your underarm skin. It's packed with 2x Licorice, Vitamin C, and Skin Nutrients that help repair damaged underarm skin by lightening dark spots and smoothening rough and bumpy skin. With Nivea, you get that balance of care and protection you need, even on extra demanding days.
A perfect embodiment of a Nivea girl!
This month, Nivea welcomes their newest endorser to their roster, Kathryn Bernardo. The adored actress remains the perfect embodiment of a Nivea girl as she always tries to live a balanced life. She spends quality time and cares for her family and friends, puts a premium on health and well-being by keeping a workout regimen and skincare routine, and even pursues her other passions like traveling and creating new business ventures. She feels confident, comfortable in her own skin, and full of life.
But just like so many Filipinas, Kathryn feels the growing demands of life. She explains:
"Our job is a little extra demanding, but I'm not complaining. It's part of it talaga. I really want to balance out my life. Every time I feel pressured and kapag nafefeel ko nagiging work work na siya, I just take time to relax and then okay na ulit. I take the time to do the things I like, like badminton or any sport, in between."
A perfect deodorant for her busy lifestyle!
With her busy lifestyle, Kathryn also acknowledges the need for a deodorant that can keep up. For Kathryn, aside from smelling good, a good deodorant also has to work, too. She looks for three things in a deodorant: the smell, ingredients that care for her underarm skin, and the effectiveness at keeping sweat at bay. For Kathryn, having fresh, bright, and smooth underarms boosts her confidence to conquer life.
"Sana mas matulungan tayo na women and teenagers to overcome their insecurities and make them more confident with the right product for them, especially the underarms because we have to give them extra care and extra love. Sobrang important yung underarms for us girls. I feel like, pag sobrang ganda yung underarms mo, mas mataas yung confidence level mo as a woman."
Nivea feels excited to team up with Kathryn to give confidence to Filipinas – one kili-kili at a time– as they go through the demands of life. Available in leading supermarkets, drug stores, and groceries and online via Lazada and Shopee.
Welcome to the Nivea family, Kathryn Bernardo!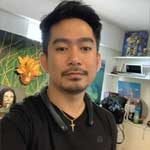 Josh Austria
Aside from being a businessman, Josh Austria has been working in PR and media industry for more more than a decade. From his years of experience as the Marketing and Advertising Head of Village Pipol Magazine, he has built strong relationships with creative people, brands, and organizations.