Amidst these challenging times, most of simply want to separate away from the harsh realities of everyday life. And, secretly develop a taste for escape to a romantic world. Of course, where we can breathe fresh air or become one with nature. We want to leave reality where it is – in the past. And, relish the feeling of delight brought by the charms and all the felicity of our imagination in the present. I cannot deny watching Episode 1, 2, and 3 of INN Love The Series. It has a spur of awe-inducing vibe.
INN Love The Series gives off a vibe lighter than others
I cannot deny watching Episode 1, 2, and 3 of INN Love The Series. It has a spur of awe-inducing vibe. As if by magic, my senses became amplified by some new holistic understanding. An understanding that I am capable of more and worry less about life's uncertainties rather than learn to live with it. I daresay that each actor has the drive to deliver hilarious lines to cheer me up that remains personal, impactful, and entertaining all at once.
Needless to say, from Director Rodel Mercado to the good acting, excellent cinematography, creative composition, and good lighting components – of course, these include color grading, contrast, and quality of light. Everything has the power to uplift my mood instantly. Let alone the catchy cheerful beats of the OST – Inn Love Na Ako Sa'Yo. The whole series sets the platform really high as it combines the best elements for viewers' pleasure and delight.
Director Rodel Mercado shared that it was exactly how he and his writer MJ Diaz conceived and envisioned the series. He shared,
"We want to formulate a secret sauce to somehow ease mental stress, loneliness, feeling of isolation, and pandemic fatigue brought by COVID and we want to do it distinctly in style."
Beyond Judgement and Separation
INN Love The Series was set in a nature paradise coined Tanggap Kita (TK) Resort. It fosters a healthy inclusive community with reverence to the fluidity of love to take its natural form which can likely be described as fantasy. Acceptance of evil twins – rejection and exclusion became the two destructive forces that hit both the lead actors Gino and Alex. This happens as they navigate temporarily to TK resort to find balance and keep their sanity intact. Will living with entirely nice "accepting" people be the key force to heal rejection, exclusion and separation?
Fluffy romcom with less conflict
The conflict of the story comes simply an inner conflict made more funnier with Gino and Alex's contrasting personality as one awkward and uncomfortable moment coalesces urging them to react defensively to avoid shaming themselves. These defense mechanisms made their interactions more intense. It also simultaneously ignited the "kilig" factor, excitement, and humor. Binge-watching INN Love The Series became an indulging experience giving me a fresh, lighter, funnier, delicious, and stress-free vibe.
Catch this refreshing BL series with lead stars VJ Mendoza and Migo de Vera every Saturday at FLP YouTube Channel at 20:00H and every Friday at Mulat streaming digital media at 21:30H Philippine Time.
Adding more sizzle and zest are
See Also
Niel Lariosa (Derrick, a model who is secretly attracted to Gino) and also the composer and singer of the original soundtrack "INN Love Ako Sa'Yo."
Rey Correjado (Louise, TK resort manager who admires Alex)
Anna Escobia (Leslie, Gino's girl best friend)
Pauline Almero (Kelly)
Aaron Caringal (Nip)
Daven Noveno (Cole)
JC Legaspi (Drew)
Micah Guevarra (Jesse)
Mitch Dayupat as Ms. Maya (Creative Director of Advertising Agency, boss of Gino).
Pictorial Team are Creative Director: Rodel Mercado; Photographer: Mark Rean Ramos; Stylist: Joseph Palma; Suit by: Jovan Dela Cruz; Designer: Joseph Palma & Elsie Delos Reyes HMUA : Carl Siocon; Studio: Village Pipol.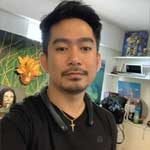 Josh Austria
Aside from being a businessman, Josh Austria has been working in PR and media industry for more more than a decade. From his years of experience as the Marketing and Advertising Head of Village Pipol Magazine, he has built strong relationships with creative people, brands, and organizations.