'I admitted mali' Donnalyn Bartolome releases statement after controversial post
Photo from Donnalyn Bartolome (Facebook)
Donnalyn Bartolome has issued an official statement in response to her controversial back-to-work post that earned criticism from the netizens.
On Tuesday, Bartolome posted on her Facebook page that she was "feeling lucky" to be back at her job again. Debunking the attitude of people who feels gloomy about resuming work after the recent holiday vacation, she shared her honest opinion.
In summary, the vlogger said that one should be grateful for work and consider it a "blessing." She also provided some points to encourage her followers to change their outlook this 2023, relating it with her motivations. She wrote,
"Bakit may sad dahil back to work na? 'Di ba dapat masaya ka kasi may chance ka na pagandahin buhay mo at ng pamilya? Trip ko pa nga may work ng January 1 dahil superstition ko may work ako buong taon 'pag ganun. Dapat grateful kasi may work."
The 28-year-old celebrity then ended her post by urging everyone to find a job that makes them happy.
But some hours after this social update, Bartolome trended online as netizens called her out for what they described as "toxic positivity" stemming from her "privilege."
A day passed, and the controversy instantly fueled heated discussions online. Bartolome took to the same Facebook account on Thursday to clarify herself.
"I admitted mali ang choice of words ko. This post could have been phrased better, I agree. It failed to fully phrase the message I wanted to convey. If gusto mo i-apply, up to you. Kung hindi applicable sa'yo yung post, then hindi."

See Also
Meanwhile, to negate the claims that she is privileged, she posted several pictures showing her life before the fame. She added,
"I'm only sharing these experiences in hopes to show (the) sincerity of me admitting that error and not just to save face. Like all of you, may pinagdaanan din ako so last thing I'd want to do is hurt any of you."
Despite explaining her side, social media users did not buy Bartolome's attempt to take accountability. Some even said her statement worsened the problematic viewpoints instead of eliminating them.
Before this issue, Bartolome faced backlash on social media for her sensual baby-themed photoshoot in July 2022. In August 2022, he drew another flak from users after hosting a "kanto" birthday party that romanticized poverty.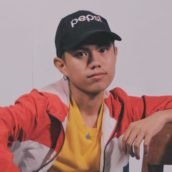 Renzneil Robles
Renzo is an introvert who prefers to do things at his own pace. Unlike most writers, he reads lazily. Watching Korean dramas at night is his constant source of comfort. Although oftentimes commended for being outspoken, he speaks better through writing than with his words.