Love online shopping? Well, who doesn't? Many of us are getting hooked with the monthly big sale events from Shopee, Lazada, and other platforms. Some are doing it is as a form of therapy or reward for their hard work. There's no harm in that, just remember to spend money wisely and practice self-control.
Eco-friendly destinations for your shopping bags
For your shopping bags that piled up over the months of ordering online, the good thing is: You can donate them!
We still want to be responsible for the environment and not harm it with a copious amount of plastic waste. Here's the list of places where you can donate your trash from your online shopping:
The Plastic Flamingo
Plastic Flamingo is a French social company based in Manila. It aims to tackle marine plastic pollution by collecting and recycling plastic waste before it reaches the oceans. They have a great vision that a world without oceanic waste is possible with collective effort.
The Plastic Solution
Plastic Solution is a movement of repurposing plastic bottles by stuffing them with non-biodegradable waste. They are going to use these plastic bottles later on as alternative fillers in constructing walls and fences. Examples of stuffings are plastic bags and straws, cigarette butts, and empty sachets. There's also an option to fill the bottles with hard plastics like egg containers and disposable utensils. Of course, you have to cut them first into smaller pieces.
Green Antz Builders
Similar to the previous initiatives above, Green Antz Builders, Inc. offers building and housing solutions that combine eco-friendly practices in its services. By empowering people to segregate and clean plastic discards for recycling, they are preventing these wastes from reaching our oceans and landfills.
We have options to be responsible for our actions and our waste. Let's not contribute to the massive pile-up of garbage in our country by doing our part.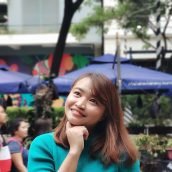 Queenie Lastra
Queenie Lasta got her bachelor's degree in Communications Research from UP Diliman. In her free time, she likes to read thriller novels, psychology books, and mangas. She believes in the importance of grit, hard work, and passion to become a great writer in the future.