#GSP on Netflix
The Boys' Love genre became a blockbuster hit in the Philippines during the year of the lockdown. It's as if the entertainment industry's dormant creative styles spewed out just to give us a steady dose of entertainment despite the crisis. However, out of all the BL shows that went on air, only a handful stood out. It may have been because of mass appeal, the cast, or their unique story-telling. Whatever they were, they clicked. One of these shows is Gaya Sa Pelikula. Written by Juan Miguel Severo for Globe Studios, this well-received series is now available on Netflix.
Courtesy of Globe Studios
Just like in the movies, Gaya Sa Pelikula follows two polar opposites as they fall in and out of themselves. Ian Pangilinan and Paolo Pangilinan (yes, they have the same surname; no, they aren't related) play Vlad Austria and Karl Almasen, respectively. Caught between their feelings and inhibitions, the two young men try to become the main characters of their own life stories.
Courtesy of Globe Studios
"Short on funds, an architecture student with dreams of a career in film sees an opportunity when his neighbor proposes an unconventional idea." – Netflix synopsis
Like in the movies, but more than the genre
Gaya Sa Pelikula is hands down the most self-aware and socio-politically correct BL series out there. In fact, it strays away from the conventional BL tropes we've come to know.
Because it's a romcom, the show does have enough fluff and theatrics to go around. More importantly, it incorporates real situations only the LGBTQ+ Community could ever experience.
The concept isn't new, but its refreshing nevertheless. It also isn't pretentious. Although, this comes to no surprise. The show's creator and star themselves are proud members and consistent voices of the Community.
Like in the movies, but also an homage
Who better to tell us a gay man's story than the gay man himself. It isn't someone famous' quote. Although, it sounds like it should be. The most engaging and relatable story is the one told truthfully and out of experience. Gaya Sa Pelikula, in its short 8-epidsode run, hits differently. Its pace is just right. There's certainly no drag, but it does make you want more.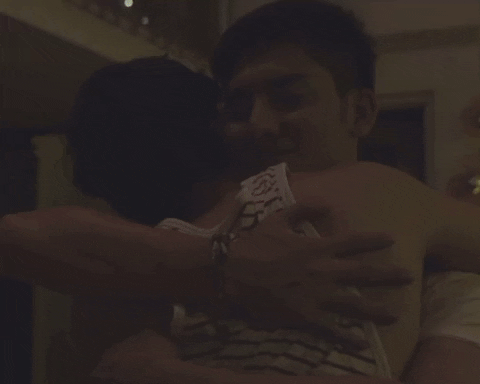 On the other hand, you can still see the homage to Thailand — the BL capital of  Southeast Asia. The showrunners added certain references throughout the series. One of which is Vlad's penchant for pink milk — the staple BL drink. Thailand has also been mentioned as Vlad's best friend Sue is living there. Apart from that, the show itself is reminiscent to Theory of Love's approach on its character's love for movies.
Like in the movies, and tastefully done
Whether "out and proud", "still inside the closet" or a "full-fledged ally", its characters are human. They aren't just tropes or clichés, which is a relief. Gaya Sa Pelikula's characters are layered and flawed, which makes them compelling. You feel how they feel because, in a way, you've been there. The show doesn't depend on grand gestures or empty plot devices. The show progresses because its driven by the characters themselves.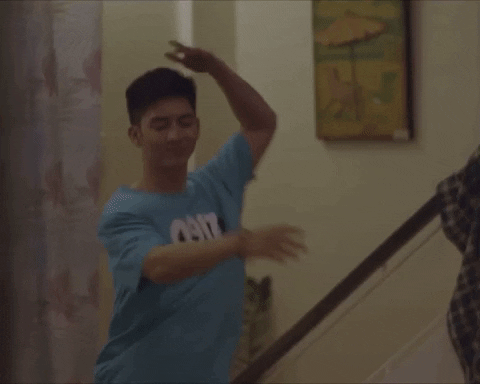 Courtesy of Globe Studios
You just know each episode has been thoughtfully written. There are parallelisms in several scenes. It isn't scared to do close-up shots too, which gives a more raw display of emotions. It certainly is a visual treat. We've asked proper representation in mainstream media in the Philippines for a very long time. Gaya Sa Pelikula does that. And more.
---
Courtesy of Globe Studios
The BL deities have blessed us yet again. Sabihin natin, "Salamat Netflix".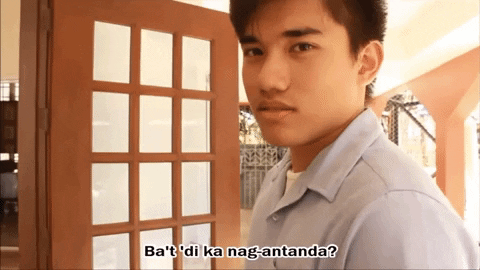 Sige ka, magpaparamdam si Ate Judit sa'yo.
Courtesy of Globe Studios
P.S.
If Ian and Paolo are #PangPang, can we the fandom be officially called #PangCakes? Or is that already a thing…?
For movie, series, and trailer updates, you can check out more of the author's works here.
All GIFs used in this article were made from giphy.com, with clips taken from Gaya Sa Pelikula.
The featured image is courtesy of Globe Studios.
Lord Harvey Monteroso
Having graduated from Xavier University-Ateneo de Cagayan with a Bachelor of Science degree in Psychology, Lord Harvey Monteroso doesn't shy away from using words to create visual images when he writes. He also makes sure to add humor with his in-depth analyses when writing movie/trailer/tv series/music video/song reactions and reviews.