It can really be a bummer when quarantine is limiting our vacation travels and hang-outs with friends. We struggle with activities we can do indoors, and how we continue our favorite past times with our friends! Currently, there is another threat of a nationwide lockdown as the COVID-19 Delta variant poses another extreme threat to our country. When will it ever end?
It seems like we've exhausted all our movie night marathons. What else is there to do? Well, worry no further! My Always Together friends and always come up with unique celebrations to do online. I'd like to share them with you!
Here are some fun lockdown activities you can do with your friends and families:
1. Zoom Presentations with Your Friends
If you've ever had to report during class, you would be required to make a deck. You can do this for your friends too, and in a fun way! Spice up your Zoom hangouts with friends by conducting fun reporting sessions! The topic can be about anything: your BFF's latest chika, a topic you're interested in, or post-pandemic activities you woulld like to do with each other!
For example, you can give a report about the latest Netflix show you've watched and why she should watch it too. Or maybe you would like to defend yourself against the teasing remarks of your BFFs asking why you're still single. You can call it "Why I'm Single and Happy to be So: An established PowerPoint presentation." Spice them up with animations and it will, indeed, shut them up!
2. Breakout Rooms with Friends
If you and your friends have a budget to spare, I recommend pooling money to experience a breakout room mystery! If you would like, I can actually host one for you and your friends FOR FREE! Just contact me through my socials below this article!
There are lots of breakout rooms to choose from, ranging from easy to hard rooms! Some rooms even have jumpscares, so watch out! The experience is just as terrifying. One of you will sharescreen the room, and everyone else will try to deduce all the clickable clues! We tried it alone in our rooms with the lights turned off via Zoom. It was just like the actual face-to-face experience. Shared trauma = stronger bonding.
3. Karaoke Night Sessions with Friends
Who said we had to say goodbye to karaoke nights? We can still bring back the singing marathons by having someone share the sound of song instrumentals!
There is always an innovative way to transfer our old activities online, and this is it! Online karaoke nights are much safer since you wouldn't need to pass around a saliva-stained microphone. Personally, my go-to karaoke playlist is a playlist full of songs from the 2000's. Britney Spears' "Oops I Did It Again" is waving at me! I also love singing the high notes to my all-time favorite Queen songs. Rock on, lovies!
4. Establish a masterlist for movie reviews
Like I said, most of us do Netflix parties and movie marathons with friends! Another way to utilize how much we do that is by creating an ultimate masterlist of all our favorite movies and our ratings towards them (Thanks, Gen!). You can use a Google spreadsheet to organize movies, either by genre, by your top picks, by your mood (go-to movies for sad nights), and more!
Your creativity is your limit. You and your friends can also amp it up further by sending surprise food to each other. Through any food service app or delivery hotline, order a secret meal for your BFFs. One that you think they'd love! It's fun and exciting, seeing your friends get together, laughing about each other's orders. What a memorable experience!
Overall, just because our physical bodies maintain social distancing doesn't mean that our social spirits have too! COVID-19 is a deadly strain, but it should not put a strain on our relationships!
You don't have to socialize all the time, but it's important to have these get-togethers once in a while.
After all, how else are we going to make it through this pandemic? Together, that's how.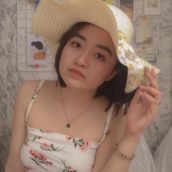 Llana Cabajar
An aspiring adventurist who aims to travel the world someday. Weird and poetic, a great friend for problematic rants and deep talks about life in general. Hit me up on my socials!