First homegrown BL reality show 'Spark' to premiere under Black Sheep's banner
Photo | Black Sheep (Facebook)
The first local boys' love (BL) reality show Spark will finally debut in the country, brought by the film studio Black Sheep.
BL is a genre of fictional media where the central storyline features a romantic relationship between two male characters. The phenomenon is said to have originated in Japan (called Yaoi) and was marketed as a way to challenge sexual and gender norms.
Meanwhile, the spiked popularity of several Thai series helped bring BL to the forefront in the Philippines. For instance, works like Love By Chance, TharnType, and 2gether The Series attained massive commercial success among Filipino viewers.
As a result, local filmmakers and producers have been more welcoming than ever to create BL projects of our own. Some popular Filipino BL releases that made it to mainstream consumption include Gaya sa Pelikula, Gameboys, and Rainbow's Sunset.
And for the first time, a pilot locally-produced BL reality show will stream in the Philippines soon.
Black Sheep to stream BL reality show 'Spark'
On Sunday, Black Sheep turned to its social media pages to announce the coming of the first Filipino BL reality dating program.
The upcoming observational series will be called Spark, as a nod to its romantic element. Although the streaming will begin this month, Black Sheep is yet to reveal more details.
On the other hand, the studio unveiled its promotional poster during the announcement. A written caption also teased the premise of the brand-new offering.
"10 single guys go outdoors to look for their spark! Country's first-ever BL dating reality show, streaming soon on Black Sheep's [YouTube] channel," it wrote.
Spark will signal Black Sheep's groundbreaking venture into the genre. It will also mark the local film outfit's pioneer production of reality programs.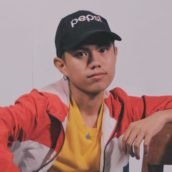 Renzneil Robles
Renzo is an introvert who prefers to do things at his own pace. Unlike most writers, he reads lazily. Watching Korean dramas at night is his constant source of comfort. Although oftentimes commended for being outspoken, he speaks better through writing than with his words.