Beyond the lens: Yassi with a heart kindled by kindness
She twirls, flips, and moves – a sheer dancefloor grace, a bejeweled queen beneath polychromatic lights. Her emotions have moved us in ways unimaginable, an actress of infinitely commendable talent. With every pose, she strikes she seamlessly persuades us that she's a heaven-bestowed model, her vibrance and inherent brilliance complementing that image flawlessly. And with all the colors that Yassi Pressman splashes onto Philippine television, she's indubitably a coruscating Picasso painting: sharp outlines and sprightly hues. Yet, underneath it all, a Monet masterpiece lies – gentle colors, a woman of fondness and compassion.
Like a formidable anchor, humility grounds Yassi
Her prominence after playing as Alyana Arevalo in the long-running series FPJ's Ang Probinsyano didn't become an inducement for her to metamorphisize into something that she's not – a hubristic icon. In spite of her fame, she remained glued to the ground. And, while she was at it, she extended her hand to aid others amid stormy nights. Her resolute mental health advocacy fueled her to do so, leading her to the investment of a lifetime – a "passion project."
Rising star, a scintillating soul; beneath is a heart kindled by kindness
The aforementioned "passion project" is her investment in Mind You, a mental health company in March of 2021. It seeks to "provide accessible and affordable mental health support" for Filipinos. Utterly drawn to its objective of "helping 1,000,000 Filipinos overcome stress, anxiety, and depression by the year 2025," Yassie invested as part of the Seed Funding round at a PHP 250 million (USD 5 million) valuation. She participated in this with other seasoned angel investors.
This sufficiently proves that beyond her star-studded career, she is a tender soul who wields profound care for others.
This makes Yassi the absolute epitome of the saying "there is more than meets the eye." Aside from being an actress, musician, dancer, and celebrity, she actively cultivates a heart zealous to help others. For me, that is her most astounding aspect.
With a steadfast commitment to her advocacy, Yassi exhibits her resplendent affinity with compassion.
A firm woman of her beliefs, Yassi actively acknowledges that mental health issues in the Philippines are critical. And, like the sea waves on her first surf in Siargao, she allows herself to be carried by them into action. In an interview, Yassi expresses her unwavering dedication to her mental health advocacy.
People need more accessible therapists and people to talk to when they don't know who to talk to anymore and sometimes with family you do have that problem because you don't know how much you can tell them. You're scared of judgement.

Yassi Pressman in an interview
In her Instagram post about the launch of Mind You's mental health app last October 26, she mentions that "one life lost is one too many." It is a potent statement regarding the suicide rates in the Philippines. It is further elucidated by the alarming rate of 25.7% in 2020. She conveys her willingness to destigmatize mental health in the country and assist others in battling depression and anxiety.
The post features a video of her spearheading a talk in the said app launch. A very sentimental Yassi took the podium, exuding genuine concern and worry. With the way she moved, talked, and smiled, we knew that she isn't just the celebrity Yassi we idolize. The passion that she radiated told us that she is the potent Yassi wanting to change something.
She's beauty, she's grace; she wants to push for change
She expresses that she wishes to do more than just be an artist.
I want to leave this world one day na alam kong mayroon akong nagawang maganda na hindi lang sa trabaho.
Manifested by her ardor and devotion to the aforesaid cause, it is indubitable that Yassie wields an ineffable prowess in changing her community.
An absolute charmer, Yassi is, but it is what lies in her heart that captivated me the most. The underlying calm Claude Monet juxtaposed with the zippy Pablo Picasso makes her glisten. Her heart kindled by kindness makes her the most incandescent celebrity – and mental health activist.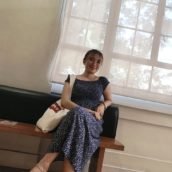 Moira Jozielle Sulit
Moira is a clumsy extroverted writer who scribbles about everything that piques her interest. That includes her own emotions, love, life, love life, music, books, you name it. Albeit reliant on her random bursts of creativity to get going at times, she is ingeniously curious and dependable, and talks to her seven cats as a stress reliever. She has found home in writing ever since she was a child and sees it as the sole legacy that her parents she barely knows has left for her.