Best of Tiktok Creators: My favorite videos of Jonel (@joneeeel)
One of the platforms that continue to emerge nowadays is the app called Tiktok. Here, creators with brilliant content seek to entertain viewers of all ages. With a video of only 15 seconds to 3 minutes, you can already become an internet superstar.
That's why I decided to create a series of four articles featuring four of my favorite funny Pinoy content creators. As a matter of fact, I'm gonna feature their videos that made me laugh the most.
In this one, we have Jonel. His content that I know him for is his Angelo x Hetty (AngHet) love team. His series of videos make me laugh so much.
This creator already has 439,900 followers, as of writing. In fact, what's amazing is that his views usually reach millions of views.
Firstly, his content, even though done by others before, he has a different approach. His facial expressions and his key captors because they are spot on. I even remember my best friend replying to these videos that I sent, reminiscing our days in high school.
Second, I don't know if it's just me, but aside from them being funny, I also feel a sense of kilig which is very weird, because I rarely feel butterflies in my stomach.
Lastly, just this creator's mind as a comedian is just special. You can already see that his characters' names, Hetty and Angelo, are brilliant. They form the word, "Anghet," which they get teased by their peers.
To sum up, a wonderful comedy experience.
Angelo visits the classroom of Hetty
Hetty makes an announcement in the class of Angelo
This is the time when Hetty visits the section of Angelo to make an announcement. Of course, classmates of Angelo took this opportunity to tease them. As a result, Angelo gives in and asks Hetty something.
See Also
Teacher of Hetty asks her to take a picture with Angelo
Hetty's Birthday
Another teacher being a bridge for the love team, their professor called for Angelo to greet Hetty a Happy Birthday.
Hetty and Angelo accidentally meets in the jeepney on their way home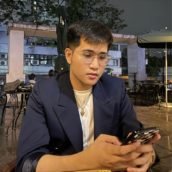 Raphael Garcia
Raphael is a person born between the generations of Millenial and Gen Z. He was produced by Cavite State University (Main Campus) with a bachelor's degree in Political Science. The lad has a fresh take on things, but can still stay true to his roots. He writes anything in Pop Culture as long as it suits his taste (if it doesn't, it's for work). He loves to wander around the cosmos and comes back with a story to publish.