ALAMAT unveils MV for 'Maharani'
Photo from ALAMAT (Twitter)
P-Pop nobilities ALAMAT on Tuesday bestowed a gift among their fans by releasing the music video for their song "Maharani" on YouTube.
"Maharani" is one of the six tracks from their debut extended play (E.P) titled "Pasulong." Launched last year on October 28, the record marked a brand new milestone for the multi-ethnic ensemble. It was also an event of celebration for their admirers, Magiliws.
"Maharani" is the closest equivalent of a queen in English. It is a counterpart to the Sanskrit title "Maharaja," which means a "great ruler" or a "high king."
According to ALAMAT's description on their channel, "Maharani" is produced and written by singer-songwriter, Thyro Alfaro. It fuses neo-soul with traditional southern Philippine music, a familiar style for the group known for incorporating Filipino sensibilities into their creations.
Moreover, the P-Pop sextet combined the R&B and trap vibe with instruments like kanun, gamelan, gangsa, and byeon. Although "Maharani" tackles modern romance, it made use of ancient Filipino royalty titles in the lyrics. The result is a "contemporary musical masterpiece that blurs the line between archaic and current."
See Also
For the "Maharani" music video, ALAMAT tapped BINI's Jhoanna and Migo Valid of Viva Records for their special participation. Of course, all of the group members Taneo, Mo, Jao, Tomas, R-Ji, and Alas had their roles and appearances.
As of writing, the "Maharani" MV has raked up over 48,000 views in less than 24 hours after release. Meanwhile, on Spotify, the track has garnered more than 223,000 streams.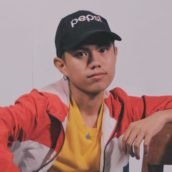 Renzneil Robles
Renzo is an introvert who prefers to do things at his own pace. Unlike most writers, he reads lazily. Watching Korean dramas at night is his constant source of comfort. Although oftentimes commended for being outspoken, he speaks better through writing than with his words.