5 Logitech Accessories and Gadgets That Can Elevate Your Productivity Anytime, Anywhere
These high-quality, yet affordable finds from Logitech are perfect for multitasking professionals, and entrepreneurs on the go!
Over the past months, entrepreneurs and employees have adjusted the way they work in order to keep up with the changing times.
However, even with all of these adjustments, inevitable challenges still turn up and must be addressed.
A limited selection of work-from-home accessories and the prevalence of low-quality devices that are unable to perform well are just some of these challenges that remote workers need to overcome.
Understanding the needs of multitasking professionals and on-the-go entrepreneurs, Logitech aims to provide work-from-home solutions that actually deliver.
This can be done through their high-quality, yet affordable gadgets and accessories that help boost productivity.
Elevate Productivity With These Great Finds From Logitech
Logitech M331 Silent Plus Wireless Mouse.
Indulge in extra comfort and precision while you work with the Logitech M331 Silent Plus Wireless Mouse.
This comes in Black, Red, and Blue colors.
Designed with an innovative asymmetric shape, this mouse enables you to work comfortably for hours.
It also gives you a controlled line-by-line scrolling experience, plus high-precision tracking for next-level cursor control on any surface.
M221 Wireless Silent Mouse
Another awesome offering from Logitech is the M221 Wireless Silent Mouse, which is quiet, comfortable, and easy to use.
SilentTouch Technology reduces over 90% of clicking sounds, minimizing noise distractions while you work.
This mouse's comfortable shape naturally follows the curve of your hand.
On the other hand, its compact design makes it highly portable, and easy to take with you wherever you work.
It comes in a variety of colors as well – Charcoal, Blue, Red, Off-White, and Rose.
Logitech M585 Multi-Device Wireless Mouse
The Logitech M585 Multi-Device Wireless Mouse is a compact mouse that features extra controls for maximum productivity.
Designed for high performance, this mouse is capable of a seamless multi-device workflow.
That allows you to drag your cursor across two computers to effortlessly move text, images, and files from screen to screen.
Fully control your settings using Logitech Options.
It allows you to change cursor speed, and assign your favorite shortcuts to the mouse's five customizable buttons.
See Also
Logitech M590 Multi-Device Silent Mouse
Choose the Logitech M590 Multi-Device Silent Mouse when you want silent productivity and extra controls.
This mouse is powerful, precise, and silent, and comes in three colors, Mid Grey Tonal, Ruby, and Graphite Tonal.
Logitech equipped the mouse with SilentTouch technology and designed for all-day comfort. It also allows you to connect your way, via Bluetooth, to your computer, laptop, or tablet.
Logitech MK295 Silent Wireless Keyboard Mouse Combo
If you want to be fully equipped to work from anywhere, you can make the right choice with Logitech MK295 Silent Wireless Keyboard Mouse Combo.
The full-sized keyboard and compact mouse are both durable and reliable and wirelessly connect to your laptop or computer with virtually no lag or dropouts.
Stay focused, and work with fewer distractions while still enjoying a familiar clicking and typing feel with this silent, best-selling combo.
Discover more about these awesome work-from-home essentials, along with other fantastic products, when you visit and follow the Logitech Flagship Store on Lazada and the Logitech Official Store on Shopee.
You may also check out the Logitech website and official Facebook Page to learn more.
Logitech products are also available at partner outlets, Octagon, Silicon Valley, PC Express, Datablitz, Complink, I-Tech/Gameone, Electroworld, Abenson, Office Warehouse, PC Hub, PC Worx, Villman, DynaQuest, Techwarez, Gameline, Thinking Tools, Gaisano Interpace, Digi-Serv Solutions, Davao FutureBright, Concept Computer, and Nutech.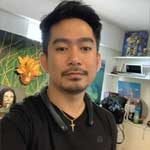 Josh Austria
Aside from being a businessman, Josh Austria has been working in PR and media industry for more more than a decade. From his years of experience as the Marketing and Advertising Head of Village Pipol Magazine, he has built strong relationships with creative people, brands, and organizations.