The pandemic's onset had us all stuck within the confines of our homes, boredom pressing hard on us. With all the lockdowns implemented, the biggest challenge was going out. Around this time, people desperately looked for something to replace the emptiness brought about by the pandemic. This was when video games boomed, like Valorant, the ultimate pandemic game.
What is Valorant?
Valorant is a "5v5 character-based tactical shooter," developed by Riot Games, the same company that brought League of Legends to life, among others. With a variety of maps, game modes, and characters to choose from, it features a unique gameplay dynamic with countless possibilities. And, yes, it is free to play!
Game Mechanics
In Valorant, you have to compete in a team of five against the opposing team, alternately being "attackers" or "defenders." To win the round, you need to complete your team's designated objective. In their default game mode, the first to secure 13 rounds wins the game.
As attackers, you have to plant the spike on the site – there are two to three sites on every map. Your team has to decide which site you would be pushing. The challenge here is you have to shatter the enemy team's defenses, and the most effective way to do this is by eliminating them.
When it is your team's turn to "defend," you have to protect the sites from being infiltrated by the opponent. You may use your skills to catch them off guard, to stall time, etc. You have to stop them from planting the spike. When they do succeed in planting the spike, though, your team needs to defuse it.
Every agent wields unique abilities that could be used for the objective. There are also different roles assigned to each agent, all of which require varying jobs. There is a Duelist, who is expected to lead the team in entering a site. They're also anticipated to get more kills due to their kits crafted for execution. The other roles include: Initiator, who gives information on the opponents' whereabouts; Sentinel, who specializes in defending sites and watching out for flanks; Controller, who "controls" sites by blocking off possible choke points and entryways through smokes.
Why did it become famous?
Visuals
Aside from its appealing gameplay, Valorant also boasts its rich visuals. Each map is highly detailed down to every nook and cranny, with subtle pop culture references and sporadic easter eggs. You could feel the devs' tender love and care for the game with every detail they serve. Compared to other tactical shooting games such as Counter Strike: Go, it is much more player-friendly with its lighthearted nature and lively characters.
Their guns got "skins," too, which just makes the game much more thrilling! It also makes violence look a lot less like actual "violence" – I mean, is it still counted as a firefight when a pretty tree grew after a headshot?
Or when you're essentially using an aquarium to shoot?
Community
Valorant is blessed with a highly interactive community. People from all around the world are not just playing it; they're also streaming it, cosplaying based on its characters, making fan art, and the like. Also, huge competitions such as VCT or Valorant Championship Tournament are held under it, watched, and supported by many.
Diversity
Valorant promotes diversity in their game by making each agent representative of the country they're from. For instance, one Valorant agent is actually a Filipino. Her name is Neon! And i's just not a shallow representation like typical "Filipino baiting" and whatnot – it's well-researched, with all the voice lines highly relatable and well-referenced to our culture. Her voice actress is even a Filipina herself, named Vanille Velasquez. Other agents are Indian, Russian, Chinese, American, German, Ghanaian, Australian, Korean, and a lot more. Mashed with the character's individuality, I can say that Riot Games did a good job of representing each character. They even have official playlists inspired by the agent's aesthetics! The playlist below is a sample.
Additionally, different places across the world also inspired their map designs. Ascent, for one, is inspired by Italy; Split is fundamentally the game's version of Japan. Pearl, their newest map, screams Portugal all over it.
Why is it the "Ultimate Pandemic Game"?
With all the possibilities that Valorant offers, more and more people began playing it, especially during the pandemic. They used it as a way to connect with their friends, something they couldn't do in real life. Bonding and collaboration had never been better! A lot of people also met others through the game. Some reconnected through it. Others found the love of their lives in the game. Others met the ones who broke their hearts. Several found friends through it, game buddies they could play with through thick and thin. Conclusively, it became a decent place to connect with others, something that the people were desperate for during a time of isolation.
Also, with its inherently fun, addictive nature, Valorant became a great stress reliever when there was nothing but bad news that filled our feeds. Growing cases, ceaseless diseases, and inaction from the government? Thankfully, the game is here to take our minds off them.
Even though the COVID-19 cases are much lower now, Valorant continues to be the ultimate pandemic game that it has always been. To this day, it continues serving its players with a remarkable gaming experience, thanks to all the hard work Riot exerts on the game. Even if the pandemic goes away sometime in the future, I'll still be forever thankful to Valorant's developers for providing us with a platform to ease our pandemic-related situations.
Are you familiar with Valorant? Share us your gaming story!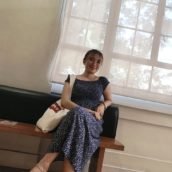 Moira Jozielle Sulit
Moira is a clumsy extroverted writer who scribbles about everything that piques her interest. That includes her own emotions, love, life, love life, music, books, you name it. Albeit reliant on her random bursts of creativity to get going at times, she is ingeniously curious and dependable, and talks to her seven cats as a stress reliever. She has found home in writing ever since she was a child and sees it as the sole legacy that her parents she barely knows has left for her.