This hip restaurant in Tanza serves bao buns with fillings you could have imagined!
Got burger cravings yet wanting to try something Asian? You might want to take a bite of Bao Buns (pronounced as "bow"), but also known as 'steamed buns' or 'baozi'.
From a family that loves traveling, exploring cuisines, and jamming to R&B!
Bao buns are a delicious, warm, fluffy treat of stuffing wrapped inside a sweet, white dough. Basically, it's a mix of flour, yeast, sugar, baking powder, milk, and oil. The bao is a bit sweeter than its closely related cousin, the dumpling. It is a type of filled bun or bread-like dumpling that originates from Chinese cuisines.
Bao Gang is a business born in Cavite, from a family of OFWs. Through a short interview, we had the opportunity to know the owners of this business, Gabriel and Kristine Figueroa. According to Ms. Kristine, their common love for quality dining and travel is the root of Bao Gang. As professionals who are experienced in the food and beverage industry, they were able to invent the first black sesame bao in the country.
The co-owner also shared that their fluffy buns are handmade daily, so you the customers can really taste the passion of the "gang" for baos. They filled these baos with homegrown flavors with a bit of influence from Singapore and other Southeast Asian countries.
Bao Gang sourced their ingredient from local markets and direct local farmers. They came up with new ideas based on those ingredients, including the coffee beans being locally grown. To guarantee the quality and freshness, Kristine said that they train all members regarding proper storage and food handling.
In adapting to the new normal protocols, the team had made several adjustments such as outdoor dining and extending their delivery time. Even though there are hardships, they remain dedicated and keep on pushing through. They also value the people working for them since their staff also have mouths to feed. Kristine also added,
For us, success always comes after the hardwork, hardwork comes after the passion.
In every business there are always uncertainty, but for as long as you love what you do and put in all your heart into it, win or lose, success or you fail, it sums up with the same result and that is fulfillment, which is where you get the true meaning of success.
Well-curated menu of flavorful dishes that are unbelievably affordable
Inside, the restaurant has laidback and cozy vibes that are perfect for chilling out with friends. I like that how they decorated the walls with street style and edge with the photos of their favorite musicians. Gabriel Figueroa shared that he and his brother share the love for '90s R&B and hip-hop so they want to include it in their business.
We saw on the menu that this tiny resto offers a wide array of dishes and beverages that tickled our curiosity. This place got a lot of baos, refreshments, and rice meals to choose from. But since we only have a limited time and stomach space, I have tried their best-sellers and the whole experience is mind-blowing! Here's a glimpse of their offerings:
For starters, they served us two kinds of appetizers: NotNaw Please and Tofu Fever. NotNaw Please is similar to popular nachos because it got beef, shredded lettuce, pico de Gallo, and sauce. But instead of tortilla chips, they replaced them with fried wanton pieces. It's light and crispy yet not oily. They are planning to include this in the future so it's not yet on their menu.
Tofu Fever is obviously made of tofu pieces that undergo deep frying. The special sauce with a nice touch of furikake makes it similar to takoyaki, but probably healthier. This is great for those who want to lessen their meat consumption.
For the rice meals, we have Uncle Belly and Yolky Dolky. Both of these dishes have appealing presentations and the along with the pandan rice.
The Uncle Belly is a tender pork belly that they grilled to perfection. I like that it's both sweet and salty due to the mixture of soy sauce, brown sugar, and other spices. The side dish called Thai Omelette made this dish even better because of its light, crunchy texture.
Meanwhile, the Yolky Dokey is made of bite-sized chicken that packs a punch of salted egg flavor. I can't help but eat more rice because of its saucy but natural taste that is highlighted by red chili and curry leaves.
Now, let's go to the drinks: Caramel Nati, LMAO, Caphe Suave. First off, the Caramel Nati is perfect for those days when you want to have a latte and relax. The caramel is more obvious than the nutty taste. I like how the foam is sweet yet smooth.
The second one is the Caphe Suave, their local take on Vietnamese coffee. It is stronger, bolder, and thicker than the ones I've tried before. At first sip, it may be overwhelming but the taste slowly grew on me.
Last but not least is the LMAO, a citrusy beverage. This is so refreshing because the blending of the sweet and sour taste is just right. I think it's suitable when you had salty or oily meals or you want a quick boost of vitamin C. This is my favorite among the bunch!
Going to the baos, we have plenty of options here in terms of meat and flavor. All of the buns are light, chewy, and fluffy. Just perfect for munching!
The Bao Kero is great if you love Japanese flavors and spicy food. The wasabi mayo packs a punch that highlights the sweet and salty taste of the soy chicken. The black sesame bao is subtle but flavorful.
The next item is Boss Chicks and one of their best-sellers. Even though the chicken is soaked with cheese sauce, it's still crispy. I like that they added a bit of pickled cucumber since it balanced out the saltiness of the cheese sauce.
The third one is the Beef Poppa and I think it highly resembles a US beef burgerI'm glad that the deep-fried bao is not oil. The bbq sauce really tied all of the elements in this bao, so yummy!
Let's go to the final round which is the dessert. The Baby Baosh looks so luxurious and mouthwatering, it almost seems like an art. It's a deep-fried bao that has a creamy vanilla ice cream in the middle while topped off with a splash of caramel and chocolate syrup. On the side, this dessert includes a bit of strawberry compote.
Just this one is enough to make me come back to this restaurant. In a single dish, the team was able to incorporate a lot of flavors without the clash. It all made sense: the crispiness of the bao, the subtle sweetness of the ice cream, the tart of the compote, and the richness of the syrup.
According to Kristine, they are planning to expand their menu by adding more selections of Bao and Nasi Rice meals. Needless to say, I had so much fun exploring their menu. I also want to take note of how neat, warm, and friendly their staff is. This adds up to the superb dining experience we had.
For those who are interested to try their dishes, Bao Gang offers delivery services via Lalamove, Grab, and other couriers. They accept payments through Cash-on-Delivery, GCash, and bank transfers. The store is open daily from 11 AM till 10 PM.
We highly suggest that you guys try the Bao Gang and see for yourself the awesome feeling of having a food adventure once in a while.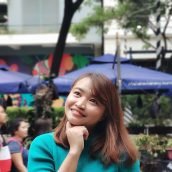 Queenie Lastra
Queenie Lasta got her bachelor's degree in Communications Research from UP Diliman. In her free time, she likes to read thriller novels, psychology books, and mangas. She believes in the importance of grit, hard work, and passion to become a great writer in the future.