Imagine going to a restaurant with your baby, and then the staff tells you that you can't eat inside with your child. Outrageous, right? But this is a reality for many parents of fur babies. I will say it and repeat: DOGS ARE BABIES TOO, except with fur! Gracie and I have always faced difficulties eating outside. So, when I heard about The Playpen Makati, it was a dream come true!
The Playpen is a pet cafe found in the bustling heart of Makati Central Square, along Chino Roces Avenue.
It's an establishment co-owned by Ma. Lovely Montoya and her business partner. Initially, the Playpen was supposed to be an art gallery cafe. However, Montoya decided to make it a pet cafe instead. She also has another cat cafe located near UST.
The Playpen opened last April 28, 2021, despite the threats of another quarantine lockdown.
"It's never easy to start a business during the pandemic. Unlike before, na maraming workers, students, walang katao-tao sa kalsada ngayon. Sa sales hindi pa talaga sya umookay for the past two months, hindi pa sya totally nag-brebreak even."
She also adds that when you start a business, you have to really learn the ropes of everything. Because when an emergency happens, and you have to fill in the vacant roles, you need to know what to do. She's a really hands-on owner that puts passion into her work. This value is what she hopes to inculcate into her employees. She instills in them the value of treating their customers with respect and care, which is why despite the few numbers, customers come back to their store again and again.
Gaining trust and love for your brand is really an important factor to succeed.
Ms. Lovely is a real pet-lover. She has nine cats and two dogs who live with her 5-year old son and husband in their condo.
Their condo is VERY pet-friendly, and she wanted to share that with others too! This was actually her main inspiration for establishing pet-themed cafes.
"Yun yung idea, kasi we love pets tapos gusto rin naman natin ng comfy place na pwede mag-stay."
When asked about what her pets mean to her, she responds by saying:
"They are family to us. They are my therapy when you feel sad. I have anxiety attacks at night, but when you have pets inside, when you look around, you see someone staring at you. You feel loved. You feel relaxed whenever you're with them, especially during this time of the pandemic lalo na sa mental health ng mga tao."
Personally, I had a great experience during my stay at Playpen.
I got to meet local residents, Rose and Kobe. They are two super-cutie clingy puffballs that will accompany you during your stay. Rose is a sweet, mild-mannered baby who loves being stroked and loves sitting on laps.
On the other hand, Kobe is a "matakaw" baby who is bursting with childlike energy.
I had a tiring week but spending the afternoon with these two and eating their scrumptious fries and bibimbap. Actually, they offer a wide array of foods and snacks! From American to Korean, you'll have difficulty choosing as they are all yummy!
View this post on Instagram
Certainly, Playpen is a startup cafe business full of love and pet-friendly purrfection! So the next time that you want to go out to eat deliciously, drink locally-made coffee, and bond with your furbaby, go here!
The food is gratifying, and a bunch of fluffy black and white clouds will run to you. The Playpen is literally heaven on Earth.
What are you waiting for? Follow their accounts now and schedule a visit!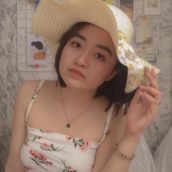 Llana Cabajar
An aspiring adventurist who aims to travel the world someday. Weird and poetic, a great friend for problematic rants and deep talks about life in general. Hit me up on my socials!